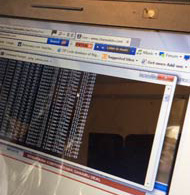 The UNICC is a support project to the National Universities Commissions' Nigerian Research and Education Network (NgREN) project, the primary purpose of which is to deliver broadband infrastructure and access to facilitate research and learning using state of the art technology.
The UnICC Project is therefore, designed to seamlessly connect the networks of the main campuses of selected universities to the networks of their corresponding medical colleges and teaching hospitals through the deployment of fibre optic cable and its associated equipment.
There are two implementation phases of the project:
Fibre interconnectivity between Universities and their corresponding Colleges of Medicine/Teaching Hospitals
Electronic last mile user-devices: video conferencing system, CCTV system, smart classroom, data centres and IP telephone systems installed at the institutions.
Objectives
The following are the objectives of the project:
Facilitate seamless connection between the Universities and their Medical Colleges to achieve bi-directional communication for the purpose of sharing and accessing information.
Provide a platform for sharing bandwidth resources and creating a reverse path for backup in the event of downtime.
Provide the requisite link for voice, data, video and other multimedia services (including conference facilities).
Service Model
This project is fully funded to support the National Universities Commission's NgREN project. The companies that implement the project are selected through open competitive bidding.
Benefits
Expanded communication link between the University campuses and their medical colleges/teaching hospitals
More efficient tertiary service delivery
Broader availability of scholarly resources
Supports more robust Research and Development among the connected institutions and globally
Locations & Distance (KM)
| | | | |
| --- | --- | --- | --- |
| INSTITUTION | STATE | ANNEX CAMPUS/TEACHING HOSPITAL/MEDICAL COLLEGE | DISTANCE (KM) |
| University of Ibadan | Oyo | University College Hospital, Ibadan | 10.5 |
| Obafemi Awolowo University | Osun | OAU Teaching Hospital Complex, Ile-Ife | 7.5 |
| University of Lagos | Lagos | College of Medicine, Idi-Araba, Lagos | 13 |
| Usmanu Dan Fodio University | Sokoto | Teaching Hospital, Sokoto | 16 |
| University of Jos | Plateau | Teaching Hospital, Jos | 28 |
| Abubakar Tafawa Balewa University | Bauchi | Teaching Hospital + College of Medical Sciences, Bauchi | 28 |
| University of Ilorin | Kwara | University of Ilorin Teaching Hospital, Ilorin | 11 |
| University of Abuja | FCT | Teaching Hospital, Gwagwalada, FCT | 19 |
| University of Nigeria, Nsukka (Enugu Campus) | Enugu | College of Medical Sciences, Ituku-Ozalla | 26.3 |
| Nnamdi Azikwe University | Anambra | College of Medical Sciences, Nnewi | 51 |
| University of Benin | Edo | Teaching Hospital, Benin | 9.1 |
| University of Uyo | Akwa Ibom | College of Health Sciences, Uyo | 18.2 |
| University of Port Harcourt | Rivers | University of port Harcourt Teaching Hospital, Choba Park | 4.3 |
| University of Calabar | Cross River | UNICAL Teaching Hospital, Calabar | 4.4 |
| University of Agriculture, Makurdi | Benue | Veterinary Teaching Hospital, Northbank, Makurdi | 17.9 |
| Nigerian Defence Academy, Kaduna | Kaduna | NDA Post Graduate School, Unguwan Dosa | 23 |
| | | | 381.7 |