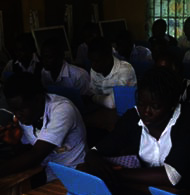 The USPF designed the SKC project to promote the demand and adoption of ICT in public schools in order to create 21st century skills.
Each of the schools is provided with computers, printers, solar power system, bandwidth and educational software/content.
At least 200 schools benefit from the project each year.
Objectives
The objectives of this project are:
Increase ICT literacy among teachers and students
Provide a platform for accessing online educational resources
Equip students with ICT skills
Facilitate ICT application in teaching and learning
Increase pass rate in mathematics, English language and other science subjects
Service Model
This is a fully funded project. Companies are engaged through open competitive bidding to supply, install, train, and provide one year remote monitoring and maintenance of each site, after which the entire infrastructure is handed over to the schools.
In addition to the above, the USPF supports the schools provision of bandwidth annually until such a time when the schools can fully take over the responsibility of supporting and sustaining the project.
Benefits
The following are some benefits derived from the project:
Improved computer literacy in the schools that have benefited from the project.
The schools are able to register students for, and check results of WAEC, NECO and other examinations without travelling to the city.
Entrenched digital life style in rural schools and communities.
Adoption of ICT in teaching and learning.
Access to remote learning resources
Encouragement of independent and active learning by students
The presence of SKC contributes to ICT appreciation in the host community
Locations
| | | |
| --- | --- | --- |
| Akanu Ohafia Secondary School, Akanu Ohafia | Ohafia | Abia |
| Model Secondary School, Uzuakoli | Uzuakoli | Abia |
| Ovuokwa/Omoba Secondary School, Ovuokwa | Ovuokwa | Abia |
| Isieke Comm Sec School Umuahia North | Umuahia | Abia |
| Oboro Sec Sch, Ikwuano Abia | Oboro Ikwuano | Abia |
| Asa High School, Aba | Asa Ukwa West | Abia |
| Ovom Girls Girls High , Aba | Obingwa | Abia |
| Comp Sec Sch Ndiolumbe | Ndiolumbe Isialangwa | Abia |
| Bende Grammar Sch, Bende | Bende | Abia |
| Uturu Sec Sch Isuikwato | Isuikwuato | Abia |
| Ututu Sec Sch Arochukwu | Ututu-Arochukwu | Abia |
| Umuopara Comm Sec Sch | Umuopara | Abia |
| Osakwa Comm Sec School,Abia | Ososkwa Osisioma | Abia |
| Community Secondary School, Aba | Aba South | Abia |
| Nnamdi Azikiwe Model Secondary School, | Asa Ukwa West | Abia |
| Comprehensive Secondary School, Umunkiri | Obingwa | Abia |
| Community Secondary School, Hiembauzo, Ndiwo | Bende | Abia |
| Community Secondary School Ntalakwu Oboro | Ikwuano | Abia |
| Coronata Secondry Agaga | Ohafia | Abia |
| Mary Slessor Technical School | Arochukuwu | Abia |
| Adventist High School, Ihie Mbawsi | Isiala-Ngwa North | Abia |
| Aggrey Memorial Model College Arochukwu | Arochukwu | Abia |
| Ohafia Model High School | Ohafia | Abia |
| Evangel High. Sch Old Umuahia | Umuahia South | Abia |
| Ngwa High School Aba | Aba | Abia |
| Iheorji Sen. Sec. Sch. | Aba | Abia |
| Gov't College Umuahia | Umuahia North | Abia |
| Afaraukwu Sec. Tech. School | Umuahia North | Abia |
| Methodist College Uzuakoli | Bende | Abia |
| Adventist Sec. Technical College (ASTEC) | Owerenta | Abia |
| Community Sec. Sch. Obokwe Asa | Ukwa West | Abia |
| Osusu Sec School, Osusu | Isilangwa | Abia |
| Comm Sec Sch Sch Ndibe | Ohafia | Abia |
| Ozuitem Sec Sch, Ozuitem | Bende | Abia |
| Girls Sec School Owerrinta | Isialangwa South | Abia |
| Rapid College Secretraiat Studies Sec sch,Ikwuano | Ikwuano | Abia |
| National High School Azumiri | Ukwa east | Abia |
| Compr Sec Sch,Egbede, Uratta | Osisioma | Abia |
| Govt Sci Sec School. Hong | Hong | Adamawa |
| Govt Senior Sec Sch, Girei | Girei | Adamawa |
| Govt Girls Sec School, Jimeta | Yola North | Adamawa |
| Govt Sci & Tech College,Yola- | Yola South | Adamawa |
| Govt Sec Sch,Mayo-Belwa | Mayo-Belwa | Adamawa |
| Govt Day Sec Sch,Demsa | Ganye | Adamawa |
| Pare Govt Sch. Ceneme, Numan | Numan | Adamawa |
| Govt Sec Sch, Gella | Mubi South | Adamawa |
| Govt Sec Sch,Baza, Michika | Michika | Adamawa |
| Govt. Sec. Sch, Lamurde | Lamurde | Adamawa |
| Government Secondary School, Mubi | Mubi | Adamawa |
| Gwadabawa Secondary School, Yola North | Yola North | Adamawa |
| Government Science Secondary School, Ganye | Ganye | Adamawa |
| Government Secondary School, Gombi | Gombi | Adamawa |
| Govt. Secondary School, Song | Song | Adamawa |
| Govt. Secondary School, Maiha | Maiha | Adamawa |
| Govt. Secondary School, Numan | Numan | Adamawa |
| Govt. Science Secondary School, Jada | Jada | Adamawa |
| GDSS Mapeo | Jada | Adamawa |
| GDSS Ganye | Ganye | Adamawa |
| Capital GDSS Jimeta | Yola/North | Adamawa |
| GDSS Fufore | Fufore | Adamawa |
| GSS Michika | Michika | Adamawa |
| GDSS Kopa | Madagali | Adamawa |
| GSS Toungo | Toungo | Adamawa |
| Govt. Girls Sec. Sch. Yola | Yola | Adamawa |
| Govt. Day Sec. Sch. Wuro-Abbo | Jada | Adamawa |
| Govt Day Sec. Sch. Yola | Yola | Adamawa |
| Govt. Day Sec. Sch. Gurin | Fufore | Adamawa |
| Govt Sec Sch Mubi | Mubi | Adamawa |
| Govt Sec Sch Maiha | Maiha | Adamawa |
| Govt Se Sch Lamurde | Lamurde | Adamawa |
| Govt Jnr Sec Sch Gonglare | Jada | Adamawa |
| Govt Jnr Sec Sch Dunmi | Song | Adamawa |
| Govt Day Sec Ch Pariya | Fuore | Adamawa |
| Mary Haney Girls Sec. Sch. Oron | Oron | Akwa Ibom |
| Uda Community Sec. Sch. Mbo | Mbo | Akwa Ibom |
| St. Andrews Prim school Abak | Abak | Akwa Ibom |
| Itam Secondary School, Obong Itam | Itu | Akwa Ibom |
| Community Sec. Sch. Ikot Eba | Etim Ekpo | Akwa Ibom |
| Stella Maris Girls College, Ukanfun | Ukanafun | Akwa Ibom |
| College Of Science, Uyo | Uyo | Akwa Ibom |
| Mary Slessor Int. Sch., Use Ikot Oku | Ibiono Ibom | Akwa Ibom |
| Community Sec. School, Okon, Essien | Essien Udim | Akwa Ibom |
| Immaculate Conception College, Itak | Ikono | Akwa Ibom |
| Akama Catholic Girls High School, Esene Town | Ikot Abasi | Akwa Ibom |
| Ini Secondary School, Ikpe Ikot Nkon | Ini | Akwa Ibom |
| Billson Sec. Sch., Afaha Eket | Eket | Akwa Ibom |
| St Francis Secondary School, Ikot Ataku | Eket | Akwa Ibom |
| Oron Boys High School Oron | Oron | Akwa Ibom |
| Comprehensive High School, Edemaya | Ikot Abasi | Akwa Ibom |
| Independence High School, Ukana | Essien Udim | Akwa Ibom |
| Archibong Memorial Secondary School, Ukpom | Ikono | Akwa Ibom |
| Ika Secondary Commercial School, Ikot Osukpong | Ika | Akwa Ibom |
| Ibiaku Issiet Secondary School Uruan | Uruan | Akwa Ibom |
| Community Secondary School, Afia Nsit Urua Nko | Nsit Ibom | Akwa Ibom |
| State College | Ikot Ekpene | Akwa Ibom |
| Community Sec Sch. Ikot Usakong | Eket | Akwa Ibom |
| Uyo High School | Uyo | Akwa Ibom |
| Onna People's High School, Abat Ona | Eket | Akwa Ibom |
| Holy Family College Abak | Ikot Ekpene | Akwa Ibom |
| Kizito Compr. High School Adiasim | Adiasim | Akwa Ibom |
| Methodist Boy's High Sch. Oron | Oron | Akwa Ibom |
| Etinan Institute Etinan | Etinan | Akwa Ibom |
| Eastern Okpobo High School Obufi Okobo | Ikono | Akwa Ibom |
| Girls High School , Ikot Ibiok | Eket | Akwa Ibom |
| Sec Sch Itu Mbon Uso | Ini | Akwa Ibom |
| Ukpaubong Comm Sech Itu | Ukpaubong | Akwa Ibom |
| Comm Sec Sch Mbata Enin | Mbata Enin | Akwa Ibom |
| Odu College Ebighi | Okobo | Akwa Ibom |
| Compr Sec Sch Nkana | Etinan | Akwa Ibom |
| Apostolic Church Sec Sch, Ikot Oku Nsit | Uyo | Akwa Ibom |
| Akpu-Abagana Primary School, Enugwu Agidi, Njikoka LGA | Njikoka | Anambra |
| Okija Grammar School, Okija | Okija | Anambra |
| Girls Secondary School, Oraifite | Ekwusigo | Anambra |
| CSS Ukwulu Awka- | Dunukofia | Anambra |
| Girl's High School Nkwelle | Oyi | Anambra |
| Community Sec Sch Mbaukwu | Mbaukwu | Anambra |
| Holy Child Conv.Amichi | Nnewi South | Anambra |
| Nri Com Boy's Sch Anaocha | Anaocha | Anambra |
| Comm Sec Sch Nawfia | Orumba South | Anambra |
| St John Sec Sch Alor | Alor | Anambra |
| Comm Sec Sch Umunze | Anambra West | Anambra |
| Nanka Girls Sec School Nanka | Nanka | Anambra |
| Orifite Girls' Sec Sch. | Ekwusigo | Anambra |
| Captial City Sec Sch | Awka South | Anambra |
| Boys Sec. School , Ukpo | Dunukofia | Anambra |
| Uli High Sch, Uli | Ihiala | Anambra |
| Ogidi Boys Sec Sch, Idemili | Idemili Norht | Anambra |
| Girls Sec. School, Ekwulobia | Aguata | Anambra |
| Comm Sec Schisuofio | Aguata | Anambra |
| Bmgs Adazi Nnukwu | Anaocha | Anambra |
| Girls' High School, Agulu | Anaocha | Anambra |
| Federal Government Girls' college, Onitsha | Onitsha North | Anambra |
| Community Sec School, Amawbia | Awka South | Anambra |
| Ide Sec. School Enigi Ukwu | Njikoka | Anambra |
| Nnewi Girls Sec. Sch. Uruagu Nnewi | Nnewi South | Anambra |
| Igwebuike Grammar School Awka | Awka South | Anambra |
| Comm. secondary school, Nnokwa | Idemili South | Anambra |
| Ojiako Memorial secondary school Adazi-Ani | Anaocha | Anambra |
| Boys Sec. Sch. Ukpo | Awka South | Anambra |
| Ado girls sec sch. Onisha | Onitsha | Anambra |
| Community sec sch. Amawbia | Amawbia | Anambra |
| Christ The Way Sec. Sch. Nnewi | Nnewi | Anambra |
| Josephine Memorial Sec Sch Akill Ozizor | Ogbaru | Anambra |
| Ogbaru High School Ogbakuba | Ogbaru | Anambra |
| Girls Sec sch,Adazi Nnukwu | Anaocha | Anambra |
| Girls sec Sch, Enugwu agidi | Njikoka | Anambra |
| Comm Sec Sch, Nanka | Aguata | Anambra |
| Community Sec Sch , Aguluezechukwu | Aguata | Anambra |
| Govt Day Sec Sch Kafin Madaki | Kafin Madaki | Bauchi |
| GDSS Shira | Shira/Yana | Bauchi |
| Govt Sci Sec Sch, Gamawa | Gamawa | Bauchi |
| Govt Sec Sch, Bogoro | Bogoro | Bauchi |
| Govt Sci Sec Sch,Dass | Dass | Bauchi |
| Govt Sec Sch Azare | Katagum | Bauchi |
| Govt Girl's College, Bauchi | Bauchi | Bauchi |
| Govt Girl's Arabic College, Alkaleri | Ningi | Bauchi |
| Govt Sci Sec Sch, Darazo | Darazo | Bauchi |
| Govt Sec Sch Ningi | Ningi | Bauchi |
| Command Day Sec. Sch. Army | Bauchi | Bauchi |
| Govt Girls Special Sec Sch, Kafin-Madaki | Kafin-Madaki | Bauchi |
| Govt Sec Sch, Toro | Toro | Bauchi |
| Govt Sec Sch, Warji | Warji | Bauchi |
| Govt Comp Day Sec Sch, Misau | Misau | Bauchi |
| Govt Sec Sch Giade | Giade | Bauchi |
| Govt Girls Sec Sch, Azare | Azare | Bauchi |
| Govt Arabic College | Jama'are | Bauchi |
| G.S.S Udubo | Gamawa | Bauchi |
| GSS Katagum | Mallam Zaki | Bauchi |
| G.S.S Games Village Bauchi | Bauchi | Bauchi |
| G.D.S.S Bayara | Tafawa Balewa | Bauchi |
| G.G.S.S Hardawa | Misau | Bauchi |
| G.S.S. Dambam | Dambam | Bauchi |
| GSS Duguri | Alkekri | Bauchi |
| Govt. Sec Sch. Kirfi | Kirfi | Bauchi |
| GGSS Yana | Yana | Bauchi |
| GSS Jamaare | Jamaare | Bauchi |
| Gdss Mainamaji | Alkaleri | Bauchi |
| Gss Liman Katagun | Bauchi | Bauchi |
| Gdss G/Konkiyel | Darazo | Bauchi |
| Govt College Birshi | Bauchi | Bauchi |
| Gcdss Ningi | Katagun | Bauchi |
| Gss Sakwa | Zaki | Bauchi |
| Govt Sec Sch Ogbia | Ogbia | Bayelsa |
| Community Sec Sch Adagbabiri | Adagbabiri | Bayelsa |
| Imgbela Prim Sch Odi | Kolokuma/Opokuma | Bayelsa |
| St. Jude Girls' Sec Sch, Amarata, Yenagoa | Yenegoa | Bayelsa |
| Ekpetiama Comp High Sch, Tombia, Yenogoa | Yenegoa | Bayelsa |
| Bishop Dimeari Grammar School, Yenogoa | Yenegoa | Bayelsa |
| Oloibiri Grammar, Oloibiri, Ogbia | Ogbia | Bayelsa |
| Nembe National Grammar Sch, Nembe | Nembe | Bayelsa |
| Southern Io Sec Sch Oporoma, South Ijaw | South Ijaw | Bayelsa |
| Govt. Girls' Sec Sch,Kaiama Kolokuma/Opokuma | Kolokuma/Opokuma | Bayelsa |
| Community Sec Sch, Sagabama | Sagbama | Bayelsa |
| Govt Sec Sch Ekeremor | Ekeremor | Bayelsa |
| Govt Sec Sch, Twon Brass | Brass | Bayelsa |
| Asoama Grammar School, Sabagriea (Okoluba) | Kolokuma/Opokuma | Bayelsa |
| Govt. Sec. School Odi | Kolokuma/Opokuma | Bayelsa |
| Comm. Boys Secondary School, Bassambiri | Nembe | Bayelsa |
| Community Secondary School, Otuoke | Ogbia | Bayelsa |
| C.C.S.S., Egbopuloama | Sagbama | Bayelsa |
| Community Secondary School, Emeya | Nimbe | Bayelsa |
| Community Secondary School, Otuan | Ijaw South | Bayelsa |
| Govt. Secondary School, Igbogene | Igbogene | Bayelsa |
| GSS Ukubie | Ijaw South | Bayelsa |
| GSS Amassoma | Ijaw South | Bayelsa |
| GSS Opuama | Ijaw South | Bayelsa |
| Opokuma Grammar Sch. | Kolokuma-Opokuma | Bayelsa |
| Community Sec Sch, Peretorugbene | Peretorugbene | Bayelsa |
| Govt Sec Sch , Ekeremor | Ekeremor | Bayelsa |
| Community Sec. Sch. Otueke | Ogbia | Bayelsa |
| Community Sec. Sch. Famgbe, | Yenegoa | Bayelsa |
| Ekowe Sec. Sch Ekowe | Southern Ijaw | Bayelsa |
| Community Sec. Sch Sagana | Brass | Bayelsa |
| Govt. Sec. Sch. Odi | Kolokuma/Opokuma | Bayelsa |
| Comm Sec Sch Orumo | Ogbia | Bayelsa |
| Comm Sec Sch Okoroma | Nembe | Bayelsa |
| CSS Bomadi | Yenogoa | Bayelsa |
| Ogboin Grammar Sch Amatola | Amatola | Bayelsa |
| Community Sec Sch Trofani | Sagabama | Bayelsa |
| C S S Ogbotobo | Ekeremor | Bayelsa |
| Govt Sec Sch Alu | Alu | Benue |
| Ikyobo Community Sec Sch Aku-Ikyobo | Aku-Ikyobo | Benue |
| Govt Sec Sch (Model) Otukpo | Otukpo | Benue |
| Govt. Secondary School, Koti, Shangev-Ya | Kwande | Benue |
| Govt. Comprehensive Secondary School, Ugba | Logo | Benue |
| Govt. Secondary School, Lessel | Lessel | Benue |
| Girls Sec. Sch. Makurdi | Makurdi | Benue |
| Govt. Comprehensive Secondary School, Udei | Guma | Benue |
| Mount St. Michael's Secondary School, Alaide | Gwer | Benue |
| Adum Comprehensive Secondary School, Adum-East, Obi | Obi | Benue |
| Weslsey High School, Utokpo | Otukpo | Benue |
| Govt Sc. & Tech. Col., Anyiin , | Logo | Benue |
| Govt Coll., katsina Ala | Kastina-Ala | Benue |
| Govt Sc. & Tech col. Garagboughul | Buruku | Benue |
| Special Sc.& Tech.Co., North Bank, Makurdi | Makurdi | Benue |
| Methodist High School, Igumale. | Ado | Benue |
| Ojope Community Secondary School, Efoke | Apa | Benue |
| Mbakaange High Sec. Sch, Vandeikya | Vandeikya | Benue |
| Wesley High Sch. Otukpo | Otukpo | Benue |
| Govt. sc & Tech. sch. Anyin | Anyin | Benue |
| Ito Community Sec. School Okpokwu | Okpokwu | Benue |
| Otha Feghe Mem Sec Sch Zaki Ibiam | Ukum | Benue |
| Abutu sec sch Mbaishor | Vandeikya | Benue |
| Gss Buruku | Buruku | Benue |
| Notre Dame Sec Mkar | Gboko | Benue |
| Govt College Obagoji | Agatu | Benue |
| Mero Memorial College Okwungaga | Okpokwu | Benue |
| G.G.S.S.S.S. Konduga | Konduga | Borno |
| Govt. Snr. Sc. Sec. Sch. Bama | Bama | Borno |
| Govt. Sec. Sch. New Marte | Marte | Borno |
| Govt. Girls Tech. Coll. Damboa | Damboa | Borno |
| Govt. College Maiduguri | Maiduguri | Borno |
| Govt. Sec. Sch. Damasak | Mobbar | Borno |
| G.S.S.S.S. Monguno | Monguno | Borno |
| Govt. Girls Arabic Sec. Sch. Mafa | Mafa | Borno |
| G.G.S.S. Biu | Biu | Borno |
| GSS Gwoza | Gwoza | Borno |
| Govt Girls Sec Sch | Yerwa | Borno |
| Govt Sec Sch, Askira | Askira/Uba | Borno |
| Govt Sec Sch, Kumshe | Bama | Borno |
| Govt Sec Sch Chibok | Chibok | Borno |
| Govt Day Sec Sch, Izge | Gwoza | Borno |
| Govt Sec Sch, Benishiek | Kaga | Borno |
| Fiza High Sch, Maiduguri | Jere | Borno |
| Govt Sec Sch, Abadan | Abadan | Borno |
| Gov't Sec. Sch. Ngamdu | Kaga | Borno |
| Gov't Girls Sec. Sch. Gajiganna | Magumeri | Borno |
| Gov't Day Sec. Sch, Uvu | Askira-Uba | Borno |
| Brgd Maimalari Day Sec. Sch, Maiduguri | MMC | Borno |
| Gov't Senior Science Sec. Sch, Biu | Biu | Borno |
| GSSS Monguno | Monguno | Borno |
| Mafoni Day Secondary School, Maiduguri | MMC | Borno |
| Imam Malik Islamic Center | Maiduguri | Borno |
| Fed. Gov. Girls College, Monguno | Monguno | Borno |
| Sanda Kyarimi Day Senior Sec, Sch, Mashamari | Jere | Borno |
| Gov't Secondary School, Sakwa | Hawul | Borno |
| Staff Deomstration Secondary School University Of Maiduguri | Maiduguri Municipal | Borno |
| Government Day Secondary School Zajiri, Maiduguri | Maiduguri Municipal | Borno |
| Government Day Secondary School Bulabin, Maiduguri | Maiduguri Municipal | Borno |
| Government Day Secondary School Maiduguri | Maiduguri Municipal | Borno |
| Mustapha Umura Elkanemi College Maiduguri | Maiduguri Municipal | Borno |
| Edanea Sec Sch Ediba | Ediba | Cross River |
| Community Sec sch Old Netim | Old Netim | Cross River |
| Mary Knoll College | C/River | Cross River |
| St Thomas college Ogoja (Now Govt. Sec. Sch. Igoli, Ogoja) | Ogoja | Cross River |
| Community Secondary School, Apiapum | Obubra | Cross River |
| Comprehensive Sec. School, Ekori | Yakurr | Cross River |
| Govt Sc. Sec. Sch. Effraya | Etung | Cross River |
| Govt. Sec. Sch. Obudu | Obudu | Cross River |
| Govt. Sc. Sch., Kukare-Basang East | Obanliku | Cross River |
| Govt. Sec. School, Ikom | Ikom | Cross River |
| Hope Wadell Training Uinstitute, Calabar | Calabar Municipality | Cross River |
| Community Sec. Sch, Esighi | Akpabuyo | Cross River |
| Community Sec. Sch, Urugbam Erei Baise | Baise | Cross River |
| Holy Child Sec. Sch, Marian Hill, Calabar | Calabar South | Cross River |
| Community Secondary School, Ikot Ewa | Akpabuyo | Cross River |
| Margaret Ekpo Secondary School Calabar | Calabar Municipal | Cross River |
| Govt. Secondary School, Akamkpa | Akamkpa | Cross River |
| Girls Secondary School, Ugep | Yakurr | Cross River |
| Mbembe Comprehensive Secondary School, Obubra | Obubra | Cross River |
| Bekarra Secondary School, Abuochiche | Bekwarra | Cross River |
| Clement Ebri Community Secondary School, Ukpiriyen Utuguag | Obudu | Cross River |
| Police Secondary School, Calabar | Calabar Municipality | Cross River |
| Mathias Offbore, Okuku | Okuku | Cross River |
| Community Sec. Sch. Ugboro | Bekwara | Cross River |
| Govt. Sec.Sch, Yala | Creek-Town Odukpani | Cross River |
| Pope JohnPaul Sec. Sch. | Yala | Cross River |
| Regina Pacis Modern Sec. Sch | Obubra | Cross River |
| Govt.Sc. Sch. Ishibori | Ogoja | Cross River |
| Akparabong Com. Sec Sch Ikom | Ikom | Cross River |
| Ajassor Tech. College Etung | Etung | Cross River |
| Comp. Sec. Sch Idum-mbube | Ogoja | Cross River |
| Mbube West Sec. Sch. Ekmtak Mbube | Ogoja | Cross River |
| Community Sec. Sch. Katchuan Irruan | Boki | Cross River |
| Govt Tech College Nyanya | Bekwara | Cross River |
| Community Sec Sch Ijegu | Yala | Cross River |
| Community Sec Sch Itigidi | Abi | Cross River |
| Community Sec School Ugep | Yakurr | Cross River |
| Govt Sec Sch Edem Odo | Akpabuyo | Cross River |
| Ubaghara High Sch Ikun | Biase | Cross River |
| Martins College Isele Uku | Isele Uku | Delta |
| Akpugeno Grammar Sch Akpugeno | Akpugeno | Delta |
| Govt Boys College Ugheli | Ughelli | Delta |
| Idumuje Mixed Secondary School Idumoje | Idumoje | Delta |
| Illah Grammar School Illah | Illah | Delta |
| Marta Dei Model Grammar Sch., Asaba | Asaba | Delta |
| St Brigids Girls Gram Sch, Asaba | Asaba | Delta |
| Emiye Girls Gram Sch. Oleh | Oleh | Delta |
| Chude Model Secondary School, Sapele | Sapele | Delta |
| Ogini Grammar School, Ogharefe | Ogharefe | Delta |
| Our Lady Model School 1, Effurun | Effurun | Delta |
| Government College Bomadi, | Bomadi | Delta |
| Unity School, Agbarho | Agbarho | Delta |
| Unity Grammar School, Agbarho | Ughelli North | Delta |
| Hussy College, Warri | Warri South | Delta |
| Tuomo Grammar School, Tuomo | Burutu | Delta |
| Mein Grammar School, Kiagbodo | Burutu | Delta |
| Ogbeh Secondary School, Effurun | Uvwie | Delta |
| Okpara Grammar School, Okpar Water Side | Ethiope East | Delta |
| Okelate Comprehensive Secondary School, Issele, Nkpime | Aniocha North | Delta |
| Comprehensive High School, Igbodo | Ika North East | Delta |
| Owhe Grammar Sch. Otor –Owhe | Isoko- North | Delta |
| Chude Girls Sec. Sch. Sapele | Sapele | Delta |
| Eni Grammar Sch. Evwreni | Evwreni | Delta |
| Amai commercial sec grammar sch . Amai | Amai | Delta |
| Igbide Grammar Sch. | Igbide | Delta |
| Azagba Mixed Snr. S/S, Issele-Azagba | Issele-Azagba | Delta |
| Comprehensive Sec Sch, Idumuje-Ugboko | Aniocha North | Delta |
| Ndemili Grammar Sch, Ndemili | Ndokwa West | Delta |
| Kpakiama Sec Sch Bomadi | Bomadi | Delta |
| James Welch Grammar Sch | Emevor | Delta |
| Ugiliamai Sec. Sch. Ugiliamai | Ndokwa West | Delta |
| Adeje Sec Sch Adeje | Okpe | Delta |
| Oviri-Okpe Sec Sch Oviri-Okpe | Okpe | Delta |
| St George Grammar Sch Obinomba | Ukwani | Delta |
| Ibrede Grammar Sch Ibrede | Ndokwa East | Delta |
| Kokori Girls Grammaer Sch | Ethiope | Delta |
| Nana Model College Ii Warri | Warri South | Delta |
| Izi High School, Idembia | Idembia | Ebonyi |
| Amankwo/Amaobolobo Community Primary School, Afikpo | Afikpo | Ebonyi |
| Community Secondary School, Ohafia | Ohafia | Ebonyi |
| Govt Sec Sch Okposi | Ohaozara | Ebonyi |
| CSS Mbeke | Ebonyi | Ebonyi |
| Holy Child Ec Sch Sharon,Abakiliki | Izzi | Ebonyi |
| Ezza High Sch Amuzu | Ezza South | Ebonyi |
| Ikwo High School Agubia- | Ikwo | Ebonyi |
| Govt Secondary School .Afikpo | Ahaukwu | Ebonyi |
| Girls' Sec Sch, Isiagu- | Ivo | Ebonyi |
| Government Tech College, Abakiliki | Abakaliki | Ebonyi |
| Comm Sec Sch, Okposhi | Ohaukwu | Ebonyi |
| St.Aidan's Sec Sch,Umuezeoka | Ezza North | Ebonyi |
| Uburu Secondary School, Uburu | Ohaozara | Ebonyi |
| Igbo Jimba Grammar School, Ozizza | Afikpo North | Ebonyi |
| Sec. Technical College, Amangwu Edda | Afikpo South | Ebonyi |
| Community Secondary School, Ndufu Alike | Ikwo | Ebonyi |
| Local Govt. Secondary School, Yammedi | Ezza North | Ebonyi |
| St. Theresa's Secondary School, Okpaugwu | Ebonyi | Ebonyi |
| Plato Vocational Secondary School, Ezzamgbo | Ohaukwu | Ebonyi |
| Premier Secondary School, Ezillo | Ishielu | Ebonyi |
| Isi Okposi High Sch. Ohaozara | Ohaozara | Ebonyi |
| Model Compre. Girls' Sec. Sch.Uguachara, | Ebonyi | Ebonyi |
| Community sec. sch. Ndiagu Echara Ikwo, | Ikwo | Ebonyi |
| Akaeze Compre. Sec. Sch. | Ivo | Ebonyi |
| Girls Model Sec. Sch. Ebuanwana | Afikpo South | Ebonyi |
| Sir Franciss Ibiam Grammer Sch. Afikpo | Afikpo North | Ebonyi |
| Ishiagu High Sch. Ishiagu | Ivo | Ebonyi |
| Unity Sec Sch. Ishiagu | Ivo | Ebonyi |
| Comprehensive Sec. Sch. Amaeze | Ivo | Ebonyi |
| Urban Sec. Sch Ishiagu | Ivo | Ebonyi |
| Girls High School Azuiyi Okwu | Abakaliki | Ebonyi |
| Izzikworo High School Ukometa | Ezza South | Ebonyi |
| Union Comprehensive Sec School, Obeagu | Ishielu | Ebonyi |
| Army Day Sec Sch Nkwagu | Abakaliki | Ebonyi |
| Effium High Sch Effium | Ohaukwu | Ebonyi |
| Onicha Comm Sec Sch | Onicha | Ebonyi |
| Ugwulangwu Sec Sec Ugwulangwu | Ohozara | Ebonyi |
| Azama College Otuo | Otuo | Edo |
| Emokpae Model Primary Sch Benin | Benin | Edo |
| Opoji Grammer School Egwuare-Opoji | Egwuare-Opoji | Edo |
| Ohunora Grammar School | Owan West | Edo |
| Ihivbe Secondary School | Owan East | Edo |
| Akpekpe Junior School | Etsako West | Edo |
| Iruekpen Girl's Grammar School | Esan West | Edo |
| Edekholor Grammar School, Ubiaja | Esan South East | Edo |
| Arue Junior School, Arue Uromi | Esan N/East | Edo |
| Iguobazua Grammar School | Ovia South West | Edo |
| Ozolua Grammar School, Ohogbo | Ikpoba Okha | Edo |
| Igbanke Mixed Junior School | Orhionmwon | Edo |
| Idia College, Benin City | Oredo | Edo |
| Ekpon Grammar School, Igueben | Igueben | Edo |
| Iruekpen Grammar School, Ekpoma | Esan West | Edo |
| Eliaho Grammar School, Eguaholo | Uhunmwonde | Edo |
| Jattu Grammar School, Jattu | Etsako West | Edo |
| Makeke Secondary School, Makeke | Akoko Edo | Edo |
| Iyamo Grammar School, Iyamo | Etsako West | Edo |
| Immaculate Conception College (ICC), Benin City | Ikpoba-Okha | Edo |
| Urhonigbe Grammar School, Urhonogbe | Orhionmwon | Edo |
| Boys Model School Fugar | Etsako Central | Edo |
| Holy Trinity Grammar School | Sabogidda ora | Edo |
| Eguare Secondary School | Ekpoma | Edo |
| Niger College | Benin City | Edo |
| Girls' Model Secondary School | Abudu | Edo |
| Ambrose Ali Demonstration Sec. Sch, Ekpoma | Esan West | Edo |
| Edo College Benin City | Oredo | Edo |
| St. John's College, Fugar | Etsako Central | Edo |
| Westrn Boys high school | Benin city | Edo |
| Edaiken Grammar School | Okhuaihe | Edo |
| Irrua Grammar sch, Irrua | Esan Central | Edo |
| Ubiaja Comm Sec Sch | Esan South East | Edo |
| Ideal Sec Sch Irrua | Esan Central | Edo |
| Egba Grammar School | Edo North | Edo |
| Ekugbe Sec Sch | Akoko Edo | Edo |
| Ehor Gramar Sch Ehor ( Minister) | Uhumwonde | Edo |
| Amedokhian Sec Sch Uromi | Esan North East | Edo |
| Mary Immaculate Grammar Sch, Ado -Ekiti | Ado-Ekiti | Ekiti |
| Ekiti Government College, Ado-Ekiti- | Ado-Ekiti | Ekiti |
| Ijero High School Ijero-Ekiti | Ijero-Ekiti | Ekiti |
| Government College Efon-Alaaye | Efon-Alaaye | Ekiti |
| Methodist Girls' High School Ifaki- Ekiti | Ifaki-Ekiti | Ekiti |
| Ogunire Comprehensive Ire- Ekiti | Ire-Ekiti | Ekiti |
| Government Science College Ayede-Ekiti | Ayede-Ekiti | Ekiti |
| Government College Oye-Ekiti | Oye | Ekiti |
| Government College Ikere_Ekiti | Ikere-Ekiti | Ekiti |
| Orun Community Grammar Sch, Orun-Ekiti | Ise/Orun | Ekiti |
| Eyemote Comprehensive High School, Iyin-Ekiti | Irepodun/Ifelodun | Ekiti |
| Oniwe Comprehensive High School, Ilawe-Ekiti | Ekiti South West | Ekiti |
| Christ School Ado-Ekiti | Ado Ekiti | Ekiti |
| Govt. Technical College, Ado Ekiti | Ado Ekiti | Ekiti |
| Our Saviours Standard College, Efon Alaaye | Efon | Ekiti |
| Announciation College, Ikere-Ekiti | Ikere | Ekiti |
| Community Grammer School, Orun-Ekiti | Ise/Orun | Ekiti |
| Notre Dame College, Usi-Eki | Ido/Osi | Ekiti |
| Orin High School, Orin Ekiti | Orin Ekiti | Ekiti |
| Egbe Oba high school | Ikole Ekiti | Ekiti |
| Are/ Afao Comprehensive High School | Are/ Afao | Ekiti |
| Doherty memorial Grammar School | Ijero Ekiti | Ekiti |
| Asiegba Comprehensive High School | Asiegbe Ekiti | Ekiti |
| Ise Comprehensive High School | Ise Ekiti | Ekiti |
| Ipoti High Sch. Ipoti Ekiti | Ijero | Ekiti |
| Amoye Grammar Sch. Ikere Ekiti | Ikere | Ekiti |
| Fiyintola High Sch. Oke Ayedun | Ekiti Ikole | Ekiti |
| Ansarudeen High sch, Ire-Ekiti | Oye | Ekiti |
| Moba Grammer School | Moba | Ekiti |
| Eso-Obe High Sch. | Ijero | Ekiti |
| Ekameta Community High Sch. | Epe | Ekiti |
| Edu High Sch. Erio Ekiti | Ijero | Ekiti |
| Orija High Sch. Emure Ekiti | Emure | Ekiti |
| Aisegba Comm. Jnr. High School, Ijan | Gbonyin | Ekiti |
| Obe Boys High School, Ozalla | Ozalla | Enugu |
| Ozalla High School, Ozalla | Ozalla | Enugu |
| Govt Technical College, Nsukka | Nsukka | Enugu |
| Union Sec Sch Eha Amufu | Isi-Uzo | Enugu |
| Urban Girls' Sec Nsukka | Nsukka | Enugu |
| Aguobu-Owa High, Aguobu-Owa | Ezeagu | Enugu |
| MSS Mpu | Aninri | Enugu |
| College Of Immaculate Conception | Enugu South | Enugu |
| Girls Snr Sec Sch Abakpa Nike | Enugu East | Enugu |
| Comp High Sch Udi Abia | Udi | Enugu |
| Boys' Snr Sec Sch Nara | Nkanu East | Enugu |
| Igboeze Snr Sec Igboeze North | Igboeze North | Enugu |
| Comm Snr Sec Sch, Ezimouno | Udenu | Enugu |
| Uwani Sesc Ssch, Uwani | Enugu South | Enugu |
| Girls' Sc Sch, Akwunanaw | Enugu | Enugu |
| City Girls' Snr Sec Sch, Enugu | Enugu North | Enugu |
| Comm Sec Sch, Udi | Udi | Enugu |
| Premier Secondary School,Ukehe | Igbo Etiti | Enugu |
| Comm Sec Sch, Obollp Afor | Udenu | Enugu |
| St. Theresa Snr Sec Sch, Abor | Udi | Enugu |
| Boys Sec Sch, Amansiodo Oghe | Ezeagu | Enugu |
| Urban Secondary School Oji River | Orji River | Enugu |
| Community Sec. School Ndeabor | Aninri | Enugu |
| Boys Sec School Ovoko | Igboeze South | Enugu |
| St Patrick's Sec. Sch. Emene | Enugu East | Enugu |
| Model Comp.Sec. Sch. Agbani | Nkanu West | Enugu |
| Model Sec. Olo | Ezeagu | Enugu |
| Community Sec. Sch. Mpu | Aninri | Enugu |
| Community Sec. Sch. Ohebe-Dim | Igbo-Etiti | Enugu |
| St. Theresa,s College Nsukka | Nsukka | Enugu |
| Community Sec. Sch Agbudu | Udi | Enugu |
| Ihiaka Girls Sec. Sch. Iheaka | Igo Eze South | Enugu |
| Rosary High School | Agwu | Enugu |
| Girls Sec Sch Obe | Nkanu West | Enugu |
| St Vincent Secondary School, Agbaogugu | Awgu | Enugu |
| ISU-UZO TECH. COLLEGE Enugu State | Ugbonabo | Enugu |
| Community Sec Sch,Umuida | Igbo-Eze North | Enugu |
| Uzo Uwani Sec School, Adani | Uzo Uwani | Enugu |
| GSS Kuje | Kuje | FCT |
| Govt Secondary School, Kubwa | Municipal | FCT |
| Govt Secondary School, Bwari | Bwari | FCT |
| Junior Secondary School, Pai, Kwali | Kwali | FCT |
| Govt Secondary Sch. Abaji | Abaji | FCT |
| Govt Secondary School, Gwagwalada | Gwagwalada | FCT |
| Govt. Secondary School, Rubochi | Kuje | FCT |
| Govt.Sec. Sch Dangara | Kwali | FCT |
| Govt. Junr Sec. School Jabi | Abuja Municipal | FCT |
| GGSS Dukpa | Gwagwalada | FCT |
| GSS Gawu | Abaji | FCT |
| Junior sec school Usman Dam | Bwari | FCT |
| Govt Sec Sch Yagonji | Kwali | FCT |
| Fed. Govt. College Billiri | Billiri | Gombe |
| G.S.S. M/Sidi | Mallam Sidi | Gombe |
| Gs.S.S. Kaltungo | Kaltungo | Gombe |
| Govt. Day Sec. Sch. Akko | Akko | Gombe |
| Govt. College Nafada | Nafada | Gombe |
| GSS Dadin Kowa | Dadin Kwa | Gombe |
| Community Sec. Sch. Bangunji | Shongam | Gombe |
| G.C.D.S.S. Gombe | Gombe | Gombe |
| Govt. Girls Coll. Doma | Doma | Gombe |
| Govt. Sec. Sch. Dukku | Dukku | Gombe |
| Govt Sec Sch, Kashere | Kashere | Gombe |
| Community High Sch Nyuwar | Balanga | Gombe |
| Tangale Comm. Comprehensive Sec Sch, Ayaba | Biliri | Gombe |
| Govt Sec Sch, Malala | Malala | Gombe |
| Govt Da Sec Sch, Bage | Fuunakaye | Gombe |
| Govt Sci Sec Sch, Nafada | Nafada | Gombe |
| All Saints College, Gombe | Gombe | Gombe |
| Community Sec Sch, Doho | Kwami | Gombe |
| Gov't Day Sec. Sch. (pilot) Gombe | Gombe | Gombe |
| Govt Sec. Technical College Kwami | Kwami | Gombe |
| Gov't Girls Sec. Sch. Tula | Tula | Gombe |
| Gov't Day Sec. Sch. Cham | Balanga | Gombe |
| Gov't Day Sec. Sch. Bojude | Kwami | Gombe |
| FGGC Bajoga | Funakaye | Gombe |
| Doma govt Girls sec sch | Doma | Gombe |
| Govt. Sec. Sch. Hinna Yamaltu | Deba | Gombe |
| Govt. Sec. Sch. Gadam | Kwami | Gombe |
| Govt. Sci. Tech. Coll. Tula | Kaltungo | Gombe |
| Tunden/Deba Govt Sec Sch Hinna | Yamai | Gombe |
| Govt Vocational Training Center Tumu | Akko | Gombe |
| Banganje Community Sec Sch | Billiri | Gombe |
| Govt Vocational Training Center Tanglang | Talanga | Gombe |
| Community Science Sec Sch Dukka | Dukka | Gombe |
| Govt Sc Sec Ssch Gombe | Gombe | Gombe |
| Community Primary School, Ihitte Ubi | Ahiazu Mbaise | Imo |
| Community Secondary School, Itu Ezinihitte | Ezinnihitte-Mbaise | Imo |
| Secondary Technical School, Awo-Omama | Oru East | Imo |
| Mbieri Com Sec Sch ,Mbieri | Mbaitoli | Imo |
| Okohia Sec Sch Isiala Mbano | Isiala Mbano | Imo |
| Dick Tiger Mem Sec Sch Amaigbo | Amaigbo Orlu | Imo |
| Umutanze Sec Sch | Orlu | Imo |
| Mbaise Sec Sch,Aboh Mbaise | Aboh Mbaise | Imo |
| FGGC Owerri | Owerri | Imo |
| Amanze Comp Sec Sch Obowo | Obowo | Imo |
| Okpala Sec Sch, Ngor Okpala | Ngor Okpala | Imo |
| Akatta Sec Sch Orlu, | Orlu, | Imo |
| Comm Sec Sch Okigwe | Okigwe | Imo |
| Girls Secondary School, Ikenanzizi | Obowo | Imo |
| Comprehensive Secondary School, Amaifeke | Orlu | Imo |
| C.K.C. Obike | Ngor Okpala | Imo |
| Girl's Secondary School, Okigwe | Okigwe | Imo |
| Mbaise Girl's Secondary School | Ezinihite | Imo |
| Ubomiri Girl's Secondary School, Ubomiri | Mbaitoli | Imo |
| Sec. Commercial School, Obiangwa | Ngor Okpala | Imo |
| Enyiogugu Secondary School | Aboh Mbaise | Imo |
| St. Peter Claver Seminary Okpala | Ngo Okpala | Imo |
| Comm. Sec. sch. Awo Idemili | Orsu | Imo |
| Oke Ovoro Sec. Sch Uvuru | Aboh Mbaise | Imo |
| St. Aquinas Sec. Sch. Umunachi | Ehime Mbano | Imo |
| Agaja Sec. Sch., Ehime Mbano | Ehime Mbano | Imo |
| Comp. Sec. Sch. Obiangwu, | Ngor Okpala | Imo |
| Ahiara Tech. College Ahiazu | Ahiara | Imo |
| Comp. Sec. Sch. Ubulu | Oru West | Imo |
| Sec. Commercial Sch. Osina, | Ideator North | Imo |
| Secondary Commercial School Achara | Obowo | Imo |
| Ife Grammar School, Ife | Ezinihitte Mbaise | Imo |
| St Saviours Sec Sch, Umuaka Njaba | Njaba | Imo |
| Ekwe Sec Sch. Isu | Isu | Imo |
| Community Sec Sch Amuzi | Ahiaze-Mbaise | Imo |
| Mbutu Sec Sch Mbutu | Abo Mbaise | Imo |
| Umuduru Egbeaguru Comm Sec Sch Onuimo | Onimo | Imo |
| Uboma Sec Sch/Ikperejere Sec Sch Ikperejere | Ikperejere | Imo |
| Nasoro Special Science Primary School, Gumel | Jigawa | Jigawa |
| Wunti Govt Secondary School, Hadejia | Hadejia | Jigawa |
| Girl's Science Sec Sch Jahun | Jahun | Jigawa |
| GSSs Kafin Hausa | Kafin Hausa | Jigawa |
| Gdss Taura | Taura | Jigawa |
| Govt Day Sec. Sch Babura | Babura | Jigawa |
| Gov Jnr Sec Sch,Kirikasamma | Kirikasamma | Jigawa |
| GSS Malam Madori- | Malam Madori | Jigawa |
| Govt Sec Sci Sch, Wunti | Hadejia | Jigawa |
| Sci Sec Sch Lautai Gumel | Gumel | Jigawa |
| Govt College Birnin Kudu | Birnin Kudu | Jigawa |
| GSS Afirji Yankwashi Lga | Yankwashi | Jigawa |
| Junior Sec Sch Galadanchi | Ringim | Jigawa |
| Govt Sec Sch, Maigatari | Maigatari | Jigawa |
| Govt Sec Sch, Roni | Roni | Jigawa |
| Govt Tech Sch, Yankwashi | Yankwashi | Jigawa |
| Govt College, Birnin Kudu | Birnin Kudu | Jigawa |
| Sch, For Arabic & Islamis Studies Hadeja | Hadeja | Jigawa |
| Govt Day Sec Sch, Buji | Buji | Jigawa |
| Govt Girls Arabic Sec Sch, Kaugama | Kaugama | Jigawa |
| Government Secondary School | Aujara | Jigawa |
| Government Day Secondary School | Kiyawa | Jigawa |
| Government Girls Arabic Secondary school | Danzomo | Jigawa |
| Government Secondary School unity | Ringim | Jigawa |
| Government Arabic Secondary School, Gumel | Gumel | Jigawa |
| Government Secondary School | Fantai | Jigawa |
| Govt. Girls Secience Sch. Taura | Taura | Jigawa |
| Govt. Girls Computer Sec. Sch. Roni | Roni | Jigawa |
| Govt. Sec. Sch. Bamaina | Birnin Kudu | Jigawa |
| Govt. Day Sec. Sch. Gumel | Gumel | Jigawa |
| Government College Birnin Kudu | Birnin Kudu | Jigawa |
| Kaigama Girls Sec Sch Kaigama | Kaigama | Jigawa |
| Govt Science Tech College | Hadeija | Jigawa |
| Govt Sec Sch Tarabu | Tarabu | Jigawa |
| Govt Science Tech College Ringim | Ringim | Jigawa |
| GDSS Danladi | S/Tankakar | Jigawa |
| Govt Secondary School, Zaria | Kaduna | Kaduna |
| Yussuf Aboki Memorial Secondary School, Giwa | Kaduna | Kaduna |
| Local Education Authourity Primary School, Zango Kataf | Kaduna | Kaduna |
| Government Secondary School, Achuna Sarki | Zangon Kataf | Kaduna |
| Govt. Day Sec. Sch., Yarbun | Kachia | Kaduna |
| Govt. Sc. Sec. Sch., Kwoi | Jaba | Kaduna |
| GSS, Jaji | Igabi | Kaduna |
| Govt. Girls Sec. Sch., Angwa Rimi | Kaduna North | Kaduna |
| Govt. Sec Sch., Sabon Gida | Sanga | Kaduna |
| Govt. Sec. Sch., Makarfi | Makarfi | Kaduna |
| Govt Girls Senior Sec. Sch., Samaru | Sabon Gari | Kaduna |
| Barewa College, Zaria | Zaria | Kaduna |
| Govt. College Kaduna | Kaduna South | Kaduna |
| Govt Girls Sec Sch, Soba | Soba | Kaduna |
| Govt Sec Sch, Kudan | Kudan | Kaduna |
| Govt College Saminaka | Lere | Kaduna |
| Govt Sec Sch, (Snr) B/Gwari | B/Gwari | Kaduna |
| Govt Girls Sec Sch ( Snr) Barnawa | K/South | Kaduna |
| Saraduna Memeorial College, Kaduna | K/North | Kaduna |
| Govt Day Sec, Sch, Anukung | Jaba | Kaduna |
| Govt Girls Sec Sch (Snr) Kafanchan | Jema'a | Kaduna |
| Queen Amina College Kakuri | Kakuri | Kaduna |
| Gov. Sec. Sch. Makarfi (Snr) | Makarfi | Kaduna |
| Alhudahuda College,Zaria | Zaria | Kaduna |
| Govt. Girls Sec. SCh. Kawo | Kaduna | Kaduna |
| Gov. Girls Sec. Sch U/Muazu (Snr) | Kaduna | Kaduna |
| GSS Fadan Kagoma (Snr) | Kagoma | Kaduna |
| GSS Manchok (Snr) | Manchok | Kaduna |
| Govt. Day Sec Sch. Yarbun | Kachia | Kaduna |
| Govt. Girls Sec Sch. Kwoi | Jaba | Kaduna |
| Govt. Girls Sec Sch. Kongo | Zaria | Kaduna |
| GGSS Gamagira | Gamagira | Kaduna |
| Govt Sec Sch Gamagir | Soba | Kaduna |
| Govt Sec Sch Angwan Sarki | Kaduna north | Kaduna |
| Govt Girls Sec Sch | kaduna north | Kaduna |
| Govt Sec Sch Doka | Kaduna south | Kaduna |
| Govt Sec Sch Bishini | Kachia | Kaduna |
| Govt Girls Secondary School, Masaka, Dala | Kano | Kano |
| Govt Senir Secondary School, Rogo | Kano | Kano |
| Govt Secondary School Tofa, Sumaila | Kano | Kano |
| Gabasawa Govt Day Sec School | Gabasawa | Kano |
| Aminu Kano Commercial College | Gwale | Kano |
| GGSS, Maryam Abacha | Fagge | Kano |
| GGSS, K/Bulukiya | Dala | Kano |
| Gaya Yamma Girls Sec Sch | Gaya | Kano |
| Govt Technical College, Bagauda | Bebeji | Kano |
| Govt Sec. School Dambatta | Dambatta | Kano |
| Government Senior Secondary School | Gwarzo | Kano |
| Govt Sec School, Bichi | Bichi | Kano |
| Junior Secondary School, Jobe | Tofa | Kano |
| Govt Girls Unity College, Kachako | Kachako | Kano |
| Junior Sec Sch, Farinruwa | Shanono | Kano |
| Govt Girls Arabic Sch Danbata | Danbata | Kano |
| Maitama Sule Science College, Gezawa | Gezawa | Kano |
| Kano Model Sec Sch, Bompai | Nasarrawa | Kano |
| Govt Girls Sch, Dala | Dala | Kano |
| Govt Senior Sec Sch, Gwale | Gwale | Kano |
| Govt Sec Sch, Rano | Rano | Kano |
| Science Col. D/kudu | Dawakin Kudu | Kano |
| Govt Sec. Sch Gwammaja | Gwammaja | Kano |
| Govt Girls Sec Sch kwa | Kwa North | Kano |
| Govt Sec Sch Faruruwa | Faruruwa | Kano |
| Govt Sec. Sch. Sumaila | Sumaila | Kano |
| Maitama Sule Sc. Sec Sch. Gaya | Gaya | Kano |
| Rumfa College, Kano | Municipal | Kano |
| Govt. Sec. Sch. Tarauni | Tarauni | Kano |
| Maitama-Sule Girls Academy | Kano | Kano |
| Science Sec. Sch, Dawakin Tofa | D/Topa | Kano |
| Science Sec. Sch, Garko | Garko | Kano |
| Zago Sec Sch Goron Maje | Dambatta | Kano |
| Senior Sec Sch Dawannau Dawakin | Dawakin Tofa | Kano |
| Govt Sec Sch Garko | Garko | Kano |
| Shagari Model Sec Sch Kumbotso | Kumbotso | Kano |
| Govt Tec College Wudil | Wudil | Kano |
| Vocational Training Center | Kano Muni | Kano |
| Nadabo Model Primary School, Bakori | Katsina | Katsina |
| Govt Pilot Secondary School, Musawa | Katsina | Katsina |
| Govt Science Secondary School, Sandamu | Katsina | Katsina |
| Government Day Secondary School, Ruma | Batsari | Katsina |
| Government Senior Rural Boarding School | Kaita | Katsina |
| GDSS, Natsinta | Jibiya | Katsina |
| Government Rural Boarding School Daura | Daura | Katsina |
| Government Technical School Ingawa | Ingawa | Katsina |
| Government Day Secondary School, Dutsi | Dutsi | Katsina |
| Government Girls College, Katsina | Katsina | Katsina |
| GDSS, Matazu | Matazu | Katsina |
| Govt. Day Sec. School, Dandume | Dandume | Katsina |
| Government Day Secondary School Bakori | Bakori | Katsina |
| Govt Girls Arabic Sec Sch, Dutsin Ma | Dutsin Ma | Katsina |
| Govt Girls Sec Sch, Malumfashi | Malumfashi | Katsina |
| Govt Day Sec. Sch. Kankia | Kankia | Katsina |
| Govt Sec Sch, Kurfi | Kurfi | Katsina |
| Community Sec Sch, Safana | Safana | Katsina |
| Govt Sec Sch, Funtua | Funtau | Katsina |
| GDSS Z/Daura | Daura | Katsina |
| Community Sec Sch, Dandume | Dandume | Katsina |
| GSS Kurfi | Kurfi | Katsina |
| GDSS rimi | Rimi | Katsina |
| GDSS R/Godiya | Faskari | Katsina |
| GDSS Yari Bori | Kafur | Katsina |
| GDSS Daura | Daura | Katsina |
| Katsina College former KTC | Katsina | Katsina |
| Govt Sec. Sch Funtua | Funtua | Katsina |
| Gov't College Junior Day Wing, Funtuwa | Funtua | Katsina |
| Government Pilot Sec School | Mani | Katsina |
| Government Technical College | Mashi | Katsina |
| Gov't Senior Sec. Sch Kanti-Kankia | Kankia | Katsina |
| Govt Day Sec Sch Kafin -Soli | Kankia | Katsina |
| Govt Day Sec Sch Mashi | Mashi | Katsina |
| Muslim Comm Sch Of Health Tech | Funtua | Katsina |
| Dandattijo Comm Sec Sch Musawa | Musawa | Katsina |
| Govt Day Sec Sch Batagarawa | Batagarawa | Katsina |
| Govt Snr Sec Sch Banye | Characnchi | Katsina |
| Kazaure Govt Girls Secondary School, Kazaure | Jigawa | Kazaure |
| Govt Secondary School, Bunza | Kebbi | Kebbi |
| Govt Science Secondary School, Yauri | Kebbi | Kebbi |
| Govt Girls Commercial Secondary School, Birnin | Kebbi | Kebbi |
| Govt Girls Sec School Mahuta | Mahuta | Kebbi |
| Government Secondary School, Dirin Daji | Sakaba | Kebbi |
| FGGC Yawuri | Yawuri | Kebbi |
| Gwandu Marafa Junior Sec School | Gwandu | Kebbi |
| Govt. Sc. Sec. School, Aliero | Aliero | Kebbi |
| Govt Sec School, Sambawa | Sambawa | Kebbi |
| Govt Sec School, Bagudo | Bagudo | Kebbi |
| Govt Girls Comprehensive School, Argungu | Argungu | Kebbi |
| Govt Girls Sec School, Kangiwa | Kangiwa | Kebbi |
| Government Sci. Sec. Sch. Birnin Kebbi | Birnin Kebbi | Kebbi |
| Govt Sec Sch, Aleiro | Aliero | Kebbi |
| Govt Sec Sch, Koko | Koko/Besse | Kebbi |
| Govt Sec Sch, Gwandu | Gwandu | Kebbi |
| Govt Girls Sec Sch, Zagga | Zagga | Kebbi |
| Junior Sec Sch, Jandutsi | Jega | Kebbi |
| Govt Sec Sch, Wara | Wara | Kebbi |
| Junior Sec Sch, Mungadi | Maiyama | Kebbi |
| Govt Science College Zuru | Zuru | Kebbi |
| Joda International Sch. Birnin Kebbi | B/Kebbi | Kebbi |
| Govt Day Sec. Sch. Gesse | Gesse | Kebbi |
| Govt Day Sec. Sch. Malisa | Malisa | Kebbi |
| Govt Day Sec. Sch. Dalijan | Dalijan | Kebbi |
| Emir Sani Sami Staff Science Secondary Sch. | Zuru | Kebbi |
| Mama Arziki Compr. High Sch. Senchi-Zuru | Zuru | Kebbi |
| Kanta College Argungu | Argungu | Kebbi |
| Govt. Sc Tech. College. Zuru | Zuru | Kebbi |
| GSS Kambasa | B/Kebbi | Kebbi |
| Govt. Sec. Sch. Saminaka | Shanga | Kebbi |
| Govt. Girls' Compreh. Sec. Sch. Maga | Maga | Kebbi |
| Govt Girls Sec Sch Augie | Augie | Kebbi |
| Argungu Emirate Sec Sch Argungu | Argungu | Kebbi |
| Govt Tech Sec Sch Bunza | Bunza | Kebbi |
| Hairu Abdu Arabi Sch Jega | Jega | Kebbi |
| Govt Sec Sch Gebbe/GDSS SHANGA | Ngaski | Kebbi |
| Jss Shanga/ JSS Sakache | Shanga | Kebbi |
| Community Sec Sch Osara | Osara | Kogi |
| Govt Girls Sci College Okaba | Okaba | Kogi |
| Iyara Anglican Science School Iyara | Iyara | Kogi |
| Iyara Muslim College | Ijumu | Kogi |
| Alu Comm High Sch | Yagba West | Kogi |
| Jamat Nasril Islam Comp High Sch | Yagba-East | Kogi |
| Army Day Sec School Lokoja | Lokoja | Kogi |
| Lennon Memorial Col, Ageva | Ageva | Kogi |
| Ebira CSS Ogaminana | Ogaminana | Kogi |
| Igah Community College Ikeje | Olamaboro | Kogi |
| Ochaja Boys Sci Sec Sch Ochaja | Ochaja | Kogi |
| Dickson Memorial Sec Sch Idah | Idah | Kogi |
| Govt Sec Sch, Adogo -Ajaokuta | Adogo -Ajaokuta | Kogi |
| Ihima Coom Sec Sch, Obeba, Ihima | Okehi | Kogi |
| Govt Sec Sch, Ogaminama | Adavi | Kogi |
| Govt Sec Sch, Ogori?Magongo | Ogori/Magongo | Kogi |
| Community Sec. Sch Oganaji | Dekina | Kogi |
| Govt Sci . Sec Abejukola | Omala | Kogi |
| Baptist High Sch. Ekinrin- Adde | Ijumu | Kogi |
| Govt Sci Sec Sch,Koton Karfe | Kogi | Kogi |
| Titcombe College, Egbe | Yagba East | Kogi |
| Imane Comm. Sec. Imane | Olamaboro | Kogi |
| Our Lady of Sch. Anyigba | Dekina | Kogi |
| Ecwa Secondary School, Mopa | Mopa/Muro | Kogi |
| St Augsitine Coll. Kabba | Kabba- Bunu | Kogi |
| Community Sec. Sch. Ikuehi Ihima | Okehi | Kogi |
| Govt Sec. Sch. Okene | Okene | Kogi |
| Comm. Sec. School Iyara | Ijumu | Kogi |
| Ome Community Sec. Sch. Egume | Dekina | Kogi |
| Govt. Sec Sch. Akpanya | Igalamel | Kogi |
| Govt. Sec Sch. Dekina | Dekina | Kogi |
| Community Sec. Sch Iyah Gbedde | Ijumu | Kogi |
| Okehi Community Sec School, Eika | Eika | Kogi |
| LGA Secondary School, Ohiano | Okene | Kogi |
| Govt Secondary School, Aloma | Ofu | Kogi |
| Community Secondary School, Iyale | Dekina | Kogi |
| Wesley High Sch, Ere Ife Olukotun | Yagba East | Kogi |
| St Kizito College Isanlu | Yagba East | Kogi |
| Govt. Sec. Sch. Omu-Aran | Irepodun | Kwara |
| Patigi Sec. Sch. Patigi | Patigi | Kwara |
| Govt. Sec. Sch. Ilorin | Ilorin | Kwara |
| Mount Carmel College Oloje | Ilorin South | Kwara |
| Baptist Gramm Sch. Okuta | Okuta | Kwara |
| Offa Grammar School | Offa | Kwara |
| Oke-Ode Grammar Sch (Unity) | Oke-ode | Kwara |
| Ansarul Islam Grammar Sch, Oro | Irepodun | Kwara |
| Lafiagi Sec Sch , Lafiagi | Lafiagi | Kwara |
| Ipee Baptist Gramm Sch. Ipee | Ipee | Kwara |
| Sheikhn Abdulkadir College, | Ilorin West | Kwara |
| Agbeku Comm.Sec Sch,Ifelodun- | Ifelodun | Kwara |
| Govt (Unity) Sec Sch, Kaima | Kaima | Kwara |
| GSS Yashikira | Baruten | Kwara |
| UMCA Comprehensive High Sch, Jebba | Jebba | Kwara |
| Oyelagbawo Grammar Sch, Ilala Near Omupo | Ifelodun | Kwara |
| GSS Ilorin | Ilorin | Kwara |
| Barakat Comm Sec Sch, Ilorin | Ilorin | Kwara |
| Comm Sec Schm Ganmo | Ganmo | Kwara |
| Omupo Muslim College Omupo | Ifeolodun | Kwara |
| Oyun Baptist High Sch, Ijagbo | Ijagbo | Kwara |
| Ansar-ud-deen Islamic High School, Ipee | Ipee-Oyun | Kwara |
| Erin-ile- Secondary School, Erin-ile | Erin-Ile | Kwara |
| GDSS Illorin | Illorin | Kwara |
| Omupo Grammar School, Omupo | Ifelodun L. G. A. | Kwara |
| Esie-Iludun Grammar Sch. Esie-Iludun | Irepodun | Kwara |
| Igosun Grammar sch, Igosun | Oyun | Kwara |
| Model Sec Sch, Oro | Irepodun | Kwara |
| Ansaru Islam Sec. Sch. Ilorin | Ilorin | Kwara |
| GDSS Karumo | Karumo | Kwara |
| Baboko Secondary School, Ilorin | Ilorin | Kwara |
| Okelele Secondary School, Okelele | Ilorin | Kwara |
| Govt Secondary School, Gwanara | Baruten | Kwara |
| Govt Sec Sch Kugiji | Kiama | Kwara |
| Govt Day Sec Sch, Amule | Ilorin East | Kwara |
| Govt Girls Sec Sch Pakata | Ilorin West | Kwara |
| Anglican college of commerce, Offa | Offa | Kwara |
| Govt Technical College, Erin Ile | Oyun | Kwara |
| Agidingbi Senior Grammar School, | Ikeja | Lagos |
| Anwar-Ul Islam College | Agege | Lagos |
| Imoye Senior High School | Amuwo-Odofin | Lagos |
| Central Senior High School Okota School Complex | Oshodi/ Isolo | Lagos |
| Immaculate Heart Senior Secondary School, Maryland Schools Complex | Ikeja | Lagos |
| Government Senior College, Ikorodu | Ikorodu | Lagos |
| Epe Girls Senior High School, Epe | Epe | Lagos |
| Methodist Boys High School, Victoria Island | Eti-Osa | Lagos |
| Sanya Grammar School, Mile 2 Oshodi Expressway | Surulere 11 | Lagos |
| Herbert Macaulay Senior Girls High School | Sabo- Yaba | Lagos |
| Aunty Ayo Girls High School, Obalende, Ikoyi | Eti-Osa | Lagos |
| CMS Grammer School, Bariga | Somolu | Lagos |
| Abesan High Sch, Abesan Housing Estate Sch 1, Alimosho | Alimosho | Lagos |
| Awori College ,Ojo | Ojo | Lagos |
| Zamuratual Islamiyyah Grammar Sch, Igbogbo | Ikorodu | Lagos |
| Lagos State Senior Model School, Agbowa- Ikosi | Epe | Lagos |
| Baptist Academy, Obanikoro | Somolu | Lagos |
| New Era, Girls Sec , Sch, Stadium | Surulere | Lagos |
| Iloro Junior grammer sch, Agege | Agege | Lagos |
| Ifako comprehensive senior high school | Somolu | Lagos |
| Orimedu junior high sch, ibeju/lekki | Ibeju/Lekki | Lagos |
| Jibowu High School, Yaba | Mainland | Lagos |
| Ojo senior high school, ojo | Ojo | Lagos |
| Oreyo Senior Grammar Sch. Oreyo, Igbogbo | Ikorodu | Lagos |
| Dolphin High Sc. Ebute Elefun | Lagos Island | Lagos |
| Epetedo High School, Epetedo | Lagos Island | Lagos |
| Patrick Speech Learning School, Ikeja GRA | Ikeja | Lagos |
| Methodist Girls High Sch, Yaba | Mainland | Lagos |
| Ilasan Grammar School Eti-osa | Eti-osa | Lagos |
| Epetedo Jnr Sec Sch Hawley St | L/Island | Lagos |
| Aje Comprehensive High Sch. | Yaba | Lagos |
| Onike Girls High School | Yaba | Lagos |
| Oke Magba High Sch. | Epe | Lagos |
| Govt Jnr High Sch | Agege | Lagos |
| Akinyele Alakuko Jnr Sec Sch Alakuko | Ifako Ijaiye | Lagos |
| Azare North. Pry Sch. Azare | Azare | Nasarawa |
| Govt. Girls Coll. Wamba | Wamba | Nasarawa |
| Comm. Sec. Sch. Nassarawa | Nassarawa | Nasarawa |
| GSS Nassarawa Eggon | Nassarawa Eggon | Nasarawa |
| GSS Akwanga | Akwanga | Nasarawa |
| Govt Sc Sec New Karu | New Karu | Nasarawa |
| Gss Shafa Abakpa | Toto | Nasarawa |
| Govt Junior Sec Sch, Agwatashi | Obi | Nasarawa |
| Government College, Obi, Odobu | Obi | Nasarawa |
| GSS Barkin Abdullahi | Lafia | Nasarawa |
| Govt Day Sec Sch Akiri | Awe | Nasarawa |
| GSS Wamba | Wamba | Nasarawa |
| GSS Bassa | Karu/Keffi | Nasarawa |
| GSS Loko | Nasarawa | Nasarawa |
| GGSS , Doma | Doma | Nasarawa |
| GSS Angwa Pah | Eggon | Nasarawa |
| Government Sci Sch Obi | Obi | Nasarawa |
| Govt Sec School,Panda | Nasarawa West | Nasarawa |
| Com Sec Sch Eggon | Akwanga | Nasarawa |
| Government Sec Sch, Angwan Zaria | Akwanga | Nasarawa |
| Govt Sec Sch, Doka | Doma | Nasarawa |
| Govt Sec Schm Gunduma | Karu | Nasarawa |
| Govt Sec Sch, Aloshi | Keana | Nasarawa |
| Govt Sec Sch Sabon Gida | Keffi | Nasarawa |
| Govt Sec Sch, Burum-Burm | Nassarawa Eggon | Nasarawa |
| Govt Sec Sch, Aridi | Lafia | Nasarawa |
| Govt Sec Sch, Kanta | Nassarawa | Nasarawa |
| GSS Agwatashi, Obi, | Obi | Nasarawa |
| Govt. Tech. College Assakio | Lafia | Nasarawa |
| GSS Keffi Wambai | Lafia | Nasarawa |
| Mada Community Sec. Sch. Andaha | Akwanga | Nasarawa |
| GSS Wakama | Nasarawa-Eggon | Nasarawa |
| Our Lady of Apostolic College(Ola) Akwanga | Nasarawa-Eggon | Nasarawa |
| Govt. Girls Sec. Sch. Karmo | Wamba | Nasarawa |
| GSS Mararaba Odege | Nassarawa | Nasarawa |
| GSS Kube | Karu | Nasarawa |
| St Peters' College Garaku | Kokona | Nasarawa |
| Govt. Sec. Sch. Mada Station | Doma | Nasarawa |
| Govt Science College Bosso-Minna | Minna | Niger |
| Govt Sec Sch Mokwa | Mokwa | Niger |
| Govt Sec Sch New Bussa | New Bussa | Niger |
| Zarumai Model School, Minna | Chanchaga | Niger |
| Dendo Secondary School, Agaie | Agaie | Niger |
| Government Secondary School, Katamba – Bologi | Edati | Niger |
| Government Technical College, Eyagi-Bida | Bida | Niger |
| Govt. Day Secondary School, Erena | Shiroro | Niger |
| Government Day Secondary School, Maikunkele | Bosso | Niger |
| Government Girls Secondary School, Kafin – Koro | Paikoro | Niger |
| Government Secondary School, Babana | Borgu | Niger |
| Emirate Secondary School, Mashegu | Mashegu | Niger |
| Comprehensive Secondary School, Ibeto | Magama | Niger |
| Police Sec Sch, Minna | Minna | Niger |
| Govt Sec Sch, Kuta | Kuta | Niger |
| Govt Sec Sch, Bida | Bida | Niger |
| Govt Sec Sch, Kutigi | Kutigi | Niger |
| Govt Day Sec Sch, Enagi | Edati | Niger |
| Govt Sec Sec, Kontagora | Kontagora | Niger |
| Govt Sec Sch Gbara | Lavun | Niger |
| Govt Sec Sch, Shirroro | Shiroro | Niger |
| Govt College Bida | Bida | Niger |
| Govt Science College Kagara | Kagara | Niger |
| Fed Govt College, Minna | Minna | Niger |
| Govt. Sc Teachers' College Gulu | Gulu | Niger |
| Govt. Model Sch. Bida | Bida | Niger |
| Govt. Day Sec Sch Dikko | Dikko | Niger |
| Govt. Girls College, Kontagora | Kontagora | Niger |
| Govt. Girls Arabic Sec. Sch, Dikko | Dikko | Niger |
| Govt. Sec. Sch. Kaboji | Kaboji | Niger |
| Abubakar Dada Sec. Sch. Paiko | Paiko | Niger |
| Govt Sec Sch Rijau | Rijau | Niger |
| Ahmadu Attahiru Sec Kagara | Rafi | Niger |
| Govt Sec Sch Doko | Lavun | Niger |
| Govt Sec Sch Suleja | Suleja | Niger |
| Idris Lebo Sci College Lavun | Kutigi | Niger |
| Govt Sci Teachers College Bida | Bida | Niger |
| Orile_Igbor Grammar School. Ajura | Obafemi/Owode | Ogun |
| Baptist High Sch. Abeokuta | Abeokuta South | Ogun |
| Govt Sci & Tech College Ajegunle | Ipokia | Ogun |
| Social Training Institute Shasha Iperu-Remo | Ikenne LGA | Ogun |
| Muslim College Ijebu Ode | Ijebu Ode | Ogun |
| Egbad College Ilaro | Yewa South | Ogun |
| Multilateral Grammer Sch. Okun Owa | Odogbolu | Ogun |
| Molusi College, Ijebu-Igbo | Ijebu North | Ogun |
| Lantoro High School, Lantoro | Abeokuta South | Ogun |
| Premier Grammar Sch. Lasenwa | Abeokuta North | Ogun |
| Egba Owode Grammar Sch. Owode Egba | Obafemi Owode | Ogun |
| Govt. Sc.& Tech. Coll, Ijebu-Ode | Ijebu- Ode | Ogun |
| Sagamu High Sch | Sagamu | Ogun |
| Sango-Ota High Sch. Ota | Ado-Odo/Ota | Ogun |
| Alaye High Sch. Ayetoro | Yewa North | Ogun |
| Egba Odeda Grammar Sch. Odeda | Abeokuta | Ogun |
| Ago-Iwoye Sec. Sch. Ago-Iwoye | Ijebu North | Ogun |
| Ode-Remo High Sch. Ode-Remo | Remo-North | Ogun |
| Gov't Sc & Tech. College, Idi Aba, Abeokuta | Abeokuta South | Ogun |
| Egba Obafemi Community Grammer School. Obafemi | Obafemi-Owode | Ogun |
| Ijebu Ode Grammar School | Ijebu Ode | Ogun |
| Abusi Edumare Academy | Ijebu North | Ogun |
| Local Govt Sec Sch Atan | Ado/Odo Ota | Ogun |
| Nazareth High School | Imeko/Afon | Ogun |
| Owode High School, Obafemi/Owode | Obafemi/Owode | Ogun |
| Methodist Grammar School Ewekoro | Ewekoro | Ogun |
| Nawair-Ud-Deen Grammar School,Obantako, Abeokuta | Abeokuta | Ogun |
| Owode Sec Sch , Yewa North | Yewa South | Ogun |
| Ajoda High School, Ipobia | Yewa North | Ogun |
| Iko Gateway Grammar School.Ipokia | Ipokia | Ogun |
| Aiyepe Comprehensive High Sch, Ilanka Odogbolu | Odogbolu | Ogun |
| Ogbogbo Baptist Grammar Sch, Ijebu North East | Ijebu North East | Ogun |
| Adeola Odutola Comprehensive High, Ijebu-Ode | Ijebu-ode | Ogun |
| Abeokuta Girls' Grammar, Abeokuta South | Abeokuta South | Ogun |
| CSS Oko North-Central | Oko North-Central | Ondo |
| Anglican Grammar School Arigidi Akoko | Arigidi Akoko | Ondo |
| Idoani Grammar School, Idoani | Ose | Ondo |
| Army Comprehensive High School, Akure | Akure | Ondo |
| Ayo Grammar School | Ipogun | Ondo |
| Owena Comm. Grammar School | Owena | Ondo |
| Olofin Anglican Grammar School | Idanre | Ondo |
| Fagunwa Memorial Grammar School | Igbo Olodumare | Ondo |
| United Grammar School, Ode Irele | Ode-Irele | Ondo |
| Community Grammar School, Iwamimo | Iwamimo | Ondo |
| Ajuta High Sch, Ogbai | Akoko North West LG | Ondo |
| African Church, Grammar School | Akoko South West | Ondo |
| Ipenmen Coom Sec Sch, Ipemen | Owo | Ondo |
| Police Sec Sch, Akure | Akure | Ondo |
| St. Joseph's College Ondo | Ondo West | Ondo |
| FGGC ,Akure | Akure South | Ondo |
| Stella Maris College Okitipupa | Okitipupa | Ondo |
| Ilaje Grammar School, Atijere | Ilaje | Ondo |
| Igasi Community Grammar School Eriti, | Akoko North | Ondo |
| More H/S, Afo. | Ose | Ondo |
| St Hellen Unity School, | Ondo West | Ondo |
| Fiwasaye G.C.S, Akure | Akure | Ondo |
| St Francis G. C. S Ile-Oluji | Ile-Oluji /Okeigbo | Ondo |
| Community Grammar School, Akotogbo | Irele | Ondo |
| Akunu Comprehensive Grammar school | Akunu-Akoko NE | Ondo |
| Ajowa School Ajowa | Akoko North East | Ondo |
| Owo High School Owo | Owo | Ondo |
| Olofin Grammar School, Idanre | Idanre | Ondo |
| Igbotako Community Grammar School Okitipupa | Okitipupa | Ondo |
| Ile Mopo Comprehensive High Sch., Irun Akoko | Akoko North | Ondo |
| St. John/Mary Unity Sec. Sch. Owo | Owo | Ondo |
| African Church Grammar School, Oka | Akoko | Ondo |
| Anglican Grammar School, Igbara-Oke | Akure South | Ondo |
| Methodist High Sch. Okitipupa | Okitipupa | Ondo |
| Laragusin Grammar Sch. Iyansan | Irele | Ondo |
| Odo Otin Grammar School Okuku, Odo Otin | Odo Otin | Osun |
| Iia Grammar School, Ila Oragun | Ila | Osun |
| Akin Orun Grammar School | Ifelodun | Osun |
| Oduduwa College Ile-Ife, Ife Central | Ife Central | Osun |
| Ibokun Grammar School, Obukun | Obukun | Osun |
| Modakeke High School, Modakeke | Modakeke | Osun |
| Gbongan/Odeomu Anglican School Of Science | Aayedaade | Osun |
| Ayedaade Grammar School, Ikire | Irewole | Osun |
| Iwo Grammar School. Iwo | Iwo | Osun |
| Osogbo Grammar School, Osogbo | Osogbo | Osun |
| Oba Laoye Grammar School, Ede | Ede South | Osun |
| Ife Girls Hig Sch | Ife Central | Osun |
| Lurther King's College Ileogbo | Aiyedire | Osun |
| Comm Grammar Sch, Temdire Ijesa | Atakunmosa East | Osun |
| Oyan Grammer School | Odo Otin | Osun |
| Sch Of Sc, Iragbiji | Boripe | Osun |
| Mapo Arogun Comp High Sec, Ede | Ede North | Osun |
| Local Authority Sec Grammar Sch, Ejigbo | Ejigbo | Osun |
| Oyinlola comprehensive High Scch. Okuku | Odo-Otin LGA | Osun |
| Fakunle Comprehensive High Sch. Osogbo | Osogbo | Osun |
| Obokun High Sch. Ilesa | Ilesa | Osun |
| St. Davids Grammar Sch. Ile-ife | Ile-ife | Osun |
| Agbonran Sch. Sc. Ede | Ede | Osun |
| Unity Sch. Ikire | Ikire | Osun |
| Biladu Ogunmokun Grammar Sch. Ilesa | Ilesa East | Osun |
| St Davis Grammar Sch. Odeomu | Ayedade | Osun |
| United Methodist High Iwo | Iwo | Osun |
| Okeila Grammar School Okeila Orangun | Ila | Osun |
| St. John Grammar School Oke-aton Ile Ife | Ife East | Osun |
| Secondary Commercial Grammar School Ora | Ifedayo | Osun |
| Orolu Community Girls Sch. SNR | Orolu | Osun |
| Ilesa Grammar Sch. Ilesa | Ilesa East | Osun |
| Ebenezer Grammer School | Oriade | Osun |
| Baptist High School, Iwo | Iwo | Osun |
| Fatima College Ikire | Ayedire | Osun |
| Muslim Grammar Sch. Modeke Igboho | Orelope | Oyo |
| Baptist Academy, Ogbomosho | Ogbomosho | Oyo |
| Ansarudeen Grammar School | Ibadan | Oyo |
| Our Lady Apostle Sec. Sch. Mary Way | Odo Ona | Oyo |
| Obaseku High School | Eruwa | Oyo |
| Awe High School, Awe | Afijio | Oyo |
| Ayekale Comprehensive Junior High School | Ibadan | Oyo |
| Fiditi Grammar School, Fiditi | Afijio | Oyo |
| Wesley School Of Science, Ibadan | Ibadan | Oyo |
| Federal Govt College Ogbomosho | Ogbomosho | Oyo |
| Ibadan City Academy | Ibadan South East | Oyo |
| Methodist Grammar School | Ibadan North | Oyo |
| Isabatudeen Girls' Grammar Sch | Lagelu | Oyo |
| Prospect High Sch Abanla | Oluyole | Oyo |
| Ojongbodu Grammar Sch, Oyo | Oyo West | Oyo |
| Koso Comm Grammar Sch, Iseyin | Iseyin | Oyo |
| Muslim Sec Sch, Saki | Saki West | Oyo |
| Gov.Sec. Sch. Orita Aperin | Aperin | Oyo |
| Igboora High Sch, Igboora | Ibarapa Central | Oyo |
| Elekuro High Sch. Ogbere Ibadan | Ona-Ara | Oyo |
| School of Science, Oyo | Oyo | Oyo |
| School of Sc. Ogbomoso | Ogbomoso | Oyo |
| Irepo Grammar Sch. Igboho | Oorelope | Oyo |
| Ibadan Grammar School | Ibadan | Oyo |
| Igbo-Elerin Grammar School, Ibadan | Ibadan | Oyo |
| Okaka Community Grammar sch. | Okaka Itesiwaju | Oyo |
| Loyola College Ibadan | Oluyole | Oyo |
| Komu- Babaode High school, Komu | Itesiwaju | Oyo |
| Community Grammar Sch. Akanran | Ona -Ara | Oyo |
| Oba Akinyele Memorial Sch. | Ibadan North | Oyo |
| Igbojaye Comm. High. Sch. Igbojaye | Itesiwaju | Oyo |
| Ogbomoso High School. | Ogbomoso | Oyo |
| Ayelogun Grammar Sch. Idere | Ibarapa Central | Oyo |
| Akolu Grammar Sch. Eruwa | Ibarapa East | Oyo |
| Islamiya Pilot Pry. School, Jos | Jos North | Plateau |
| Nyemdung Comm. Sec. Sch. Mangu | Mangu | Plateau |
| Local Auth. Pry. Sch. Longev | Longev | Plateau |
| Govt Sec Sch, Langtang | Lantang | Plateau |
| GGSS Shendam | Shendam | Plateau |
| Govt College Jengre | Jengre | Plateau |
| Saraduna Memorial College Jos | Jos | Plateau |
| Govt College Senior Pankshin | Pankshin | Plateau |
| Govt Sci Sec Sch. Kuru- Jos | Kuru | Plateau |
| Govt Sec Sch, Gyang Kanke | Kanke | Plateau |
| Govt Girls' College, Bokkos | Bokkos | Plateau |
| Govt Sec Sch , Wase | Wase | Plateau |
| Govt Sec Sch.Riyom-Jos | Riyom | Plateau |
| John Vianney Sec Sch | Barkin Ladi | Plateau |
| Govt Sec Ssch, Jengre | Bassa | Plateau |
| Govt Sec Sch, Kwa | Qua'an Pan | Plateau |
| Govt Sec Sch,Fwa | Jos East | Plateau |
| St.Paul Academy Jos | Jos North | Plateau |
| St. Joseph Sec. Sch. Vom | Jos South | Plateau |
| Govt Sec Sch, Fajul | Lantang South | Plateau |
| Govt Sec Sch, Mangu | Mangu | Plateau |
| Govt Sec. Sch, Wase | Wase | Plateau |
| Ganaka International Sch, Jos | Jos North | Plateau |
| St. Brendans Sec. Sch. Fogul- Kwa | Quaan Pan | Plateau |
| Mwaghavul Comm. Sec. Sch. Kerang | Mangu | Plateau |
| St Louis College, Jos | Jos | Plateau |
| King Sentinery College Shendam | Shendam | Plateau |
| College of Arts & Sc Kurgwi | Kwande | Plateau |
| College of Mary Immaculate Zawan | Jos South | Plateau |
| St Murumba College Jos | Jos | Plateau |
| Govt. Sec. Sch, Jing | Pankshin | Plateau |
| Fatima Girls Sch. Jos | Jos | Plateau |
| GSS Pil-Gani | L/North | Plateau |
| Govt Day Sec Sch, Wase | Wase | Plateau |
| GSS Sha | Bokkos | Plateau |
| Govt Sec Sch Kunkyam (Tutung) | Kanam | Plateau |
| Gss Kara Bisichi | Bisichi | Plateau |
| Gss Binch | Bassa | Plateau |
| Govt Sec Sch Isiokpo | Isiokpo | Rivers |
| Primary Sch IV Nonwa Uwdume | Nonwa Uwdume | Rivers |
| C C G S Ikwerre Etche | Etche | Rivers |
| C S S Nkpolu- Oruworukwo | Nkpolu-Oroworukwo | Rivers |
| O G S Okirika | Okrika | Rivers |
| Nyemoni Grammar School, Abonnema,Akuku Toru Khana | Akuku-Toru | Rivers |
| D N H S Degema | Degema | Rivers |
| Finima Girls' Sec Sch, Bonny | Bonny | Rivers |
| A H S Eleme | Eleme | Rivers |
| C S S Biara | Gokana | Rivers |
| C S S Opobo | Opobo/Nkoro | Rivers |
| Archdeacon Crowther Port Harcourt- | Port Harcourt | Rivers |
| Kalabari National College, Buguma | Asari-Toru | Rivers |
| Government Seconday School, Oyingbo | Oyigbo | Rivers |
| Govt Comp. Sec Sch,Bokori | PH City | Rivers |
| Community Sec Sch, Otapha | Abua/Odual | Rivers |
| Community Sec Sch,Opkoromini | Ahaoda | Rivers |
| Community Sec Sch, Obonoma | Akuku-Toru | Rivers |
| Govt Sec Sch, Asamara | Andoi | Rivers |
| Community Sec Sch, Egbeda | Emohua | Rivers |
| Community Sec. Sch. Ubima | Ubima | Rivers |
| Community secondary sch Isiokpo | Isiokpo | Rivers |
| Community Sec. Sch. Bomu | Bomu | Rivers |
| Marian High School-Bane | Khana | Rivers |
| Community Sec. Sch, Abuloma | PH City | Rivers |
| Compr.. Sec. Sch. Umuagbai | Umuagbai | Rivers |
| Community Sec. Sch. Erema | Erema | Rivers |
| CSS Aluu | Aluu | Rivers |
| CSS Rumuapara | Rumuapara | Rivers |
| CSS Rumuekini | Rumuekini | Rivers |
| Govt Sec Sch , Eneka | Obio/Akpor | Rivers |
| Community Sec Sch Elele-Alimini | Emohu | Rivers |
| C S S Koroma-Tai | Tai | Rivers |
| CSS Kalibiama | Opobo/Nkoro | Rivers |
| Our Lady Of Fatima College, Port Harcourt | Port Harcourt | Rivers |
| C S S Ido | Asari -Toru | Rivers |
| Sanni Dingyadi Unity Secondary School, Wamako | Sokoto | Sokoto |
| Govt Girls Secondary School, Illela | Sokoto | Sokoto |
| Govt Girls Unity Science School, Tambawal | Sokoto | Sokoto |
| Govt. Sec. Sch., Sabo Birni | Sabo Birni | Sokoto |
| Govt Sec. Sch., Kware | Kware | Sokoto |
| Govt Sec. Sch., Tureta | Tureta | Sokoto |
| Govt. Sec. Sch., Bafarawa | Isa | Sokoto |
| Gamji Girls Teachers College, Gamji | Rabah | Sokoto |
| Govt Girls Sec. Sch., Bodinga | Bodinga | Sokoto |
| Abdullahi Barau Secondary School, Dogondaji | Sokoto | Sokoto |
| GSS Shagari, | Shagari | Sokoto |
| Government Sci. Sec Sch, Gwadabawa | Sokoto East | Sokoto |
| Hafsatu Ahmadu Bello Girls' Secondary Sch. | Sokoto | Sokoto |
| Govt Sec Sch, Gada | Gada | Sokoto |
| Junior Sec Sch, Dandin Mahe | Shagari | Sokoto |
| Ahmadu Bello Academy | Sokoto | Sokoto |
| Govt Sec Sch, Wamako | Wamako | Sokoto |
| Govt Sec Sch, Kware | Kware | Sokoto |
| Govt Tech College, Ekowe | Silame | Sokoto |
| GG Model SS Illela | Illela | Sokoto |
| GSS Isa | Isa | Sokoto |
| Gov't Sec. Sch. Kuchi | Kuchi | Sokoto |
| Gov't Sec. Sch. Romon-Sarki | Romon-Sarki | Sokoto |
| SAGMC – Sokoto | Sokoto | Sokoto |
| Abdulkareem Adesaraji Special School | Sokoto | Sokoto |
| Gov't Sec. School Sayinna | Seyina | Sokoto |
| Community Day Sec. Sch. Tambuwal | Tambuwal | Sokoto |
| Nana Girls Sec. Sch. Sokoto | Sokoto | Sokoto |
| Giginya Memorial Sec. School Sokoto | Sokoto | Sokoto |
| Shehe Malami Snr Sec Sch Wurno | Wurno | Sokoto |
| Govt Sec Snr Gandi | Rabah | Sokoto |
| Govt Snr Sec Sch Tangaza | Tangaza | Sokoto |
| Govt Sch Goronyo/ Ahmed Admau Mu'aza Model Sci. Sec Sch | Goronyo | Sokoto |
| Govt Sc Snr Sec Sch Yabo | Yabo | Sokoto |
| Govt Sec Sch Kilogiri | Yabo | Sokoto |
| Govt Sec Sch, Bodinga | Bodinga | Sokoto |
| Govt Day Sec Sch, Dange | Dange/Shuni | Sokoto |
| Government Sci Sec Sch,Jalingo | Jalingo | Taraba |
| Government Day Sec Sch, Kana | Kona | Taraba |
| GSS Bachama, Karim Lamido- | Karim Lamido | Taraba |
| Government Sec Sch, Zing | Zing | Taraba |
| Government Day Sec Sch, Didan | Didan | Taraba |
| Government Sec Sch, Bal | Bali | Taraba |
| Government Day Sec Sch, Mayo Ndaga | Mayo Ndaga | Taraba |
| Government Sci Sec Schdonga | Donga | Taraba |
| Government Sec Sch, Wukuri | Wukari | Taraba |
| Government Sec Sch, Ibi | Ibi | Taraba |
| GDSS Pantisawa | Yorro | Taraba |
| Munga Lelau Govt Day Sec Sch | Karim Lamido | Taraba |
| GDSS, Suntai | Bali | Taraba |
| GSS Serti | Gashaka | Taraba |
| GSS Baissa | Kurmi | Taraba |
| GDSS, Kpambo | Ussa | Taraba |
| GSS Mararba | Mararba | Taraba |
| St. Patricks Sec. Sch. Wukari | Wukari | Taraba |
| Govt day Secondary school, Jen | Karim Lamindo | Taraba |
| GSSS Jalingo | Jalingo | Taraba |
| GDSS Bachama | Karim Lamido | Taraba |
| GDJSS Mansur Gembu | Sardauna | Taraba |
| GDJSS Dembe | Sardauna | Taraba |
| GDJSS Ladan | Wukari | Taraba |
| GDSS Donga | Donga | Taraba |
| Govt day Secondary school, Kashimbila | Takum | Taraba |
| GDSS Kungana | Bali | Taraba |
| GDSS Tella | Gassol | Taraba |
| JSS Zing | Zing | Taraba |
| Community Sech Sch Rufu | Ussa | Taraba |
| Govt Science Sch Donga | Donga | Taraba |
| Gss Didang | Kurmi | Taraba |
| Gdss Mohammed Gabdo | Gashaka | Taraba |
| Garin Dogo Ube Jss | Lau | Taraba |
| Govt Sec Sch Wukari | Wukari | Taraba |
| GSS Geidam | Geidam | Yobe |
| Govt. Girls Sec. Sch. Gadaka | Gadaka | Yobe |
| G.S.S. Bularafa | Gulani | Yobe |
| G.S.S. Jakusko | Jakusko | Yobe |
| G.S.S. Potiskum | Potiskum | Yobe |
| Gstc Damagum | Fune | Yobe |
| G.G.S.S. Nguru | Nguru | Yobe |
| FGC Buni Yadi | Buni Yadi | Yobe |
| G.G.C. Damaturu | Damaturu | Yobe |
| Gstc Gashua | Gashua | Yobe |
| Teachers Grade II Study Center, Gwaio-Kura | Bade | Yobe |
| Govt Sec Sch, Bunigari | Gujba | Yobe |
| Govt Sec Sch, Amshi | Jakusko | Yobe |
| Govt Sec Sch, Daura | Fune | Yobe |
| Govt Sec Sch, Dapchi | Bursari | Yobe |
| Govt Sec Sch, Kumaganan | Yunusari | Yobe |
| Govt Sec Sch, Yunusari | Yunusari | Yobe |
| Govt Sec Sch, Nangere | Nangere | Yobe |
| Govt Girls Tech. Sec. Sch, Dapchi | Dapchi | Yobe |
| Yobe Islamic Centre Sec. Sch, Damaturu | Damaturu | Yobe |
| Govt Sec. Sch. Kukuri | Nangere | Yobe |
| Govt Girls Sec. sch, Ngelzarma | Fune | Yobe |
| GSS Machina | Machina | Yobe |
| GSS Jajimaji | Karasuwa | Yobe |
| Govt. Arabic Girls Sec. Sch. Dagona | Bade | Yobe |
| Govt. Sec.Sch. Babbangida | Tarmuwa | Yobe |
| Gov't Sec. Sch. Buniyadi | Gujba | Yobe |
| Govt. Sec. Sch. Geidam | Geidam | Yobe |
| Govt. Sec. Sch. Damaturu | Damaturu | Yobe |
| Gov't Day Sec. Sch. Gashua | Gashua | Yobe |
| Govt Sec. Sch. Gujba | Buni Yadi | Yobe |
| Federal Govt. Girls College Potiskum | Potiskum | Yobe |
| Govt. Sec. Sch. Yusufari | Yusufari | Yobe |
| Gov't Technical College Nguru | Nguru | Yobe |
| Science Sec. Sch. Potiskum | Potiskum | Yobe |
| Gov't College Nguru (Former Gov't Sec. Sch. Nguru) | Nguru | Yobe |
| Teachers Grade II Study Center, Gwaio-Kura | Bade | Yobe |
| Govt Sec Sch, Bunigari | Gujba | Yobe |
| Govt Secondary School Anka | Zamfara | Zamfara |
| Govt Technical College, Kaura Namoda | Zamfara | Zamfara |
| Govt Girls College, Talata Mafara | Zamfara | Zamfara |
| GDSS, B/Ruwa | Gusau | Zamfara |
| GGDSS, S/Kudu | Gusau | Zamfara |
| Usman Doggo SS, Bugundu | Bungudu | Zamfara |
| GSS Tsafe | Tsafe | Zamfara |
| GSS K/Namoda | K/Namoda | Zamfara |
| GSSS Shinkafi | Shinkafi | Zamfara |
| GCSS Moriki | Zurmi | Zamfara |
| MASS Maradun | Maradun | Zamfara |
| GDSS Gummi | Gummi | Zamfara |
| GSS Bukkuyum | Bukkuyum | Zamfara |
| Govt Sec Sch, Bilbis | Bilbis | Zamfara |
| Govt Sec Sch, Tsafe | Tsafe | Zamfara |
| Sambo Sec.Sch. Gusau | Gusau | Zamfara |
| Dansadau Sec. Sch. Dansadau | Dansadau | Zamfara |
| GSSS, Dansadan | Maru | Zamfara |
| GSSS, Bakura | Talata Marafa | Zamfara |
| Govt Comp Sec Sch, Moriki | Zurmi | Zamfara |
| Bashar School | Kaura Namoda | Zamfara |
| Sambo Gov't Sec. Sch Gusau | Gusau | Zamfara |
| GSS Maru | Maru | Zamfara |
| Gov. Girls Comp. Sec. Sch. Moriki | Moriki | Zamfara |
| GSS Birnin Magaji | Birnin Magaji | Zamfara |
| Agwaragi Sec. Sch. T/Mafara | Talata Mafara | Zamfara |
| Govt. Unity Sec.Sch Gummi | Gummi | Zamfara |
| Usman Dangwado Sec sch Bungudu | Bungudu | Zamfara |
| Govt. Sci. Sec Sch. Dansadau | Gusau | Zamfara |
| Govt. Sec. Sch. Kaura Namoda | Kaura Namoda | Zamfara |
| Govt. Sec. Sch. Talata Mafara | Talata Mafara | Zamfara |
| Jnr Sec Sch Jangebe | Talata-Mafara | Zamfara |
| Govt Arabic Sec Sch Zurmi | Zurmi | Zamfara |
| Ibrahim Gusau Sec Sch Gusau | Gusau | Zamfara |
| Women Arabic Teachers' College Gusau | Gusau | Zamfara |
| Fgc Anka Zuru Rd Anka | Anka | Zamfara |
| Govt Unity Sec Sch Gummi | Gummi | Zamfara |