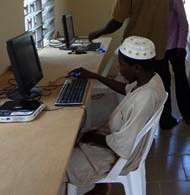 The USPF, in partnership with local entrepreneurs and community-based organizations, facilitates the establishment of Community Resource Centres (CRC). The aim is to extend voice, internet and ICT training and other e-services to unserved communities on shared basis.
The centres are fully equipped with desktop computers, furniture, telephone, power generator, and bandwidth to provide access to telephone, internet, ICT and e-initiatives at semi-urban and rural un-served and under-served areas.
Each CRC offers:
Voice
Internet
ICT training and other value added services
Objective:
The objective of the CRC project is to promote the adoption of ICT at community level for social and economic development. The CRC offerings include, but not limited to conflict and disaster warning and management, improving farmers' access to markets, information centre for community development mobilization, small scale businesses, e-agric, and community health.
Service Model:
This project is funded through grants. The local entrepreneurs and companies are selected through open competitive bidding to establish the CRCs. The grant is provided for capex and initial one year opex. Additional support is thereafter provided in terms of bandwidth provision for the first five (5) years of operation.
Benefits
CRC serves as one-stop shop for access to good quality ICT services at fair and affordable rates. Other benefits are:
Employment generation
Reduction of rural to urban population drift by bridging the urban-rural access gap
Empowerment through easier access to Information on markets and e-commerce, weather, global trends, public health, e-agriculture, government services, security, banking and micro-financing, etc
Improved socio-economic development through more efficient and less expensive service delivery
Supports self development and distance learning
Increases ICT skills
Locations
| | | |
| --- | --- | --- |
| Ohafia | Ohafia | Abia |
| Umudike | Umudike | Abia |
| Demsa | Demsa | Adamawa |
| Oron | Oron | Akwa Ibom |
| Nung Udoe | Ibesikpo Asutan | Akwa Ibom |
| Akpanpan | Akpanpan | Akwa Ibom |
| Abak | Abak | Akwa Ibom |
| Ikot Ekpene | Ikot Ekpene | Akwa Ibom |
| Orafite | Ekwusigo | Anambra |
| Ogbaru | Ogbaru | Anambra |
| Toro | Toro | Bauchi |
| Katagum | Katagum | Bauchi |
| Azare | Azare | Bauchi |
| Yana | Yana | Bauchi |
| Warji | Warji | Bauchi |
| Obudu Cattle Ranch | Obudu  | Cross River |
| Yenagoa | Yenagoa | Bayelsa |
| Emure | Emure | Ekiti |
| Nembe | Nembe | Bayelsa |
| Bajoga | Bajoga | Gombe |
| Ekore | Ekore | Cross River |
| Kumo | Kumo | Gombe |
| Itigidi | Itigidi | Cross River |
| Billiri | Billiri | Gombe |
| Ikwo | Ikwo | Ebonyi |
| Kiyawa | Kiyawa | Jigawa |
| Auchi | Etsako West | Edo |
| Hadejia | Hadejia | Jigawa |
| Irrua | Irrua | Edo |
| Kazaure | Kazaure | Jigawa |
| Okada | Okada | Edo |
| Mallam-Madori | Mallam-Madori | Jigawa |
| Ekpoma West | Ekpoma West | Edo |
| Birnin Kudu | Birnin Kudu | Jigawa |
| Egor | Egor | Edo |
| Gumel | Gumel | Jigawa |
| Afuze | Afuze | Edo |
| Kwoi | Kwoi | Kaduna |
| Ukana | Animri | Enugu |
| Giwa Tadanfangi | Giwa Tadanfangi | Kaduna |
| Ishi-Ozalla | Nkanu West | Enugu |
| Kankia | Kankia | Katsina |
| Kumo | Kumo | Gombe |
| Malumfashi | Malumfashi | Katsina |
| Deba | Deba | Gombe |
| Aliero | Aliero | Kebbi |
| Tarauni | Tarauni | Kano |
| Dakingari | Dakingari | Kebbi |
| Yauri | Yauri | Kebbi |
| Odulu | Odulu | Kogi |
| Zuru | Zuru | Kebbi |
| Adankolo | Adankolo | Kogi |
| Gwandu | Gwandu | Kebbi |
| Okokomaiko-Ojo | Okokomaiko-Ojo | Lagos |
| Anyingba | Anyingba | Kogi |
| Isabo | Isabo | Ogun |
| Iyara | Ijumu | Kogi |
| Aiyetoro | Aiyetoro | Ogun |
| Okene | Okene | Kogi |
| Ijebu Igbo | Ijebu West | Ogun |
| Oke-Oyi | Oke-Oyi | Kwara |
| Akinmoorin | Afijio | Oyo |
| Malete | Malete | Kwara |
| Okuntemo Oyo | Okuntemo Oyo | Oyo |
| Oro | Edu | Kwara |
| Agbowo | Agbowo | Oyo |
| Oloje | Oloje | Kwara |
| Illela | Illela | Sokoto |
|  Poka Epe | Poka Epe | Lagos |
| Kware | Kware | Sokoto |
| Sabo, Yaba | Sabo, Yaba LCDA | Lagos |
| Bali | Bali | Taraba |
| Nasarawa | Nasarawa | Nasarawa |
| Wukari | Wukari | Taraba |
| Keffi | Keffi | Nasarawa |
| Karu | Karu | Nasarawa |
| Rijau | Rijau | Niger |
| Lavun | Lavun | Niger |
| Lapai | Lapai | Niger |
| Orta Ilaro | Ipokia | Ogun |
| Osiele | Shagamu | Ogun |
| Bori Town | Khana | Rivers |
| Etche | Etche | Rivers |
| Degema | Degema | Rivers |
| Wammako | Wammako | Sokoto |
| Wurno | Wurno | Sokoto |
| Dange | Dange Shuni | Sokoto |
| Bodinga (Sifawa) | Bodinga (Sifawa) | Sokoto |
| Potiskum | Fika | Yobe |
| Nguru | Nguru | Yobe |
| Gashua | Gashua | Yobe |
| Damagun | Damagun | Yobe |
| Damaturu | Damaturu | Yobe |