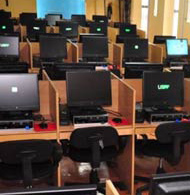 The IRC Project is an intervention by the USPF to create ICT-driven knowledge management that will adequately respond to the changing demands of users. Through the project, the USPF establishes digital libraries in the existing public libraries to enable sharing of information and other resources as well as connect and share resources with libraries outside the country.
It also provides the platform for online portal for library documents and educational database.
Each of the beneficiary libraries are equipped with desktop computers, server systems, UPS, printers, computer furniture, air conditioners, library software, scanner, 60 KVA generator, VSAT equipment with bandwidth.
The objective of the project is to create a platform for online fully cross searchable portal for displaying library documents and educational database to provide users with unlimited access to knowledge resources and educational materials on a wide range of subjects.
Service Model
This is a fully funded project. Companies are engaged through open competitive bidding to deploy the above listed ICT equipment to beneficiary libraries. In addition, capacity building is provided for library personnel to equip them with the appropriate 21st century skills.
Benefits
The beneficiary libraries have been upgraded from the traditional library to modern, robust and efficient knowledge centres
Availability of up-to-date educational materials
Cost effective
Improved capacity of library personnel to respond to the dynamics of ICTs and provide knowledge-based support to users through efficient service delivery.
Universal access to scholarly materials
Increased capacity to accommodate more users.
Improved reading and learning experience of knowledge seekers and users,
Motivating non-users to imbibe the culture of reading and research through modern technology
Locations
| | | |
| --- | --- | --- |
| Federal Science Technical College Library, Ahonso | Ahonso | Abia |
| State Library, Yola | Yola | Adamawa |
| Federal Poly Library, Mubi | Mubi | Adamawa |
| University of Uyo Library, Uyo | Uyo | Akwa Ibom |
| Akwa Ibom State Polytechnic Library, Ikot Ekpene | Ikot Ekpene | Akwa Ibom |
| Anambra State Library, Awka | Awka | Anambra |
| Anambra State University Library, Uli | Uli | Anambra |
| State Library, Bauchi | Bauchi | Bauchi |
| State College of Education Library, Azare | Azare | Bauchi |
| State Library, Yenegoa | Yenegoa | Bayelsa |
| Federal Science Technical College Library, Tungbo | Tungbo | Bayelsa |
| State Library, Makurdi | Makurdi | Benue |
| State Polytechnic Library, Ugbokolo | Ugbokolo | Benue |
| Sir Kashim Ibrahim College of Education Library, Maiduguri | Maiduguri | Borno |
| State Library, Maiduguri | Maiduguri | Borno |
| National Library Calabar | Calabar | Cross River |
| Federal Science College, Ogoja | Ogoja | Cross River |
| State Library, Asaba | Asaba | Delta |
| Delta State University Library, Abraka | Abraka | Delta |
| State Library, Abakaliki | Abakaliki | Ebonyi |
| Akanu Ibiam Fed. Poly.Library, Afikpo | Afikpo | Ebonyi |
| National Library, Benin | Benin | Edo |
| Ambrose Ali University Library, Ekpoma | Ekpoma | Edo |
| University of Ado – Ekiti Library, Ado Ekiti | Ado Ekiti | Ekiti |
| Federal Technical College Library, Usi - Ekiti | Usi - Ekiti | Ekiti |
| National Library, Enugu | Enugu | Enugu |
| Enugu State Library, Amachara Mpu | Mpu | Enugu |
| National Library, Garki | Municipal | FCT |
| University of Abuja Library, Gwagwalada | Gwagwalada | FCT |
| National Library, Gombe | Gombe | Gombe |
| State Library, Gombe | Gombe | Gombe |
| National Library, Owerri | Owerri | Imo |
| Technical Skills Acquisition Centre Library, Orlu | Orlu | Imo |
| College of Education Library, Dutse | Dutse | Jigawa |
| State Library, Kazaure | Kazaure | Jigawa |
| National Library, Kaduna | Kaduna North | Kaduna |
| Ahmadu Bello University Library, Zaria | Zaria | Kaduna |
| National Library, Kano | Nassrawa | Kano |
| State University of Tech. Library, Wudil | Wudil | Kano |
| National Library, Katsina | Katsina | Katsina |
| Isa Kaita College of Education Library, Dutsin - Ma | Dutsin-ma | Katsina |
| Waziri Umaru Federal Poly.Library, Birnin Kebbi | Birnin Kebbi | Kebbi |
| Federal Science Tech. College Library, Zuru | Zuru | Kebbi |
| State Library, Lokoja | Lokoja | Kogi |
| Federal Polytechnic Library, Idah | Idah | Kogi |
| National Library, Ilorin | Ilorin | Kwara |
| Federal Plytechnic Library, Offa | Offa | Kwara |
| National Library, Yaba | Mainland | Lagos |
| State University Library, Ojo | Ojo | Lagos |
| National Library, Lafia | Lafia | Nasarawa |
| State University Library, Keffi | Keffi | Nasarawa |
| National Library, Minna | Minna | Niger |
| Federal College of Education Library, Kontagora | Kontagora | Niger |
| National Library, Abeokuta | Abeokuta | Ogun |
| Olabisi Onabanjo University Library, Ago - Iwoye | Ago - Iwoye | Ogun |
| National Library, Akure | Akure | Ondo |
| Adekunle Ajasin University Library, Akungba Akoko | Akungba Akoko | Ondo |
| State Library, Osogbo | Osogbo | Osun |
| Obafemi Awolowo University Library, Ile Ife | Ile Ife | Osun |
| National Library, Ibadan | Ibadan | Oyo |
| Ladoke Akintola University Library, Ogbomoso | Ogbomoso | Oyo |
| National Library, Jos | Jos | Plateau |
| State Polytechnic Library, Bokkos | Bokkos | Plateau |
| State Library, Port Harcourt | Port Harcourt | Rivers |
| State Polytechnic Library, Bori | Bori | Rivers |
| National Library, Sokoto | Sokoto | Sokoto |
| Federal Polytechnic Library, Sokoto | Sokoto | Sokoto |
| National Library, Jalingo | Jalingo | Taraba |
| Wukari Jubilee University Library, Wukari | Wukari | Taraba |
| Yobe State University | Damaturu | Yobe |
| Federal College of Education Library, Portiskum | Portiskum | Yobe |
| State Library, Gusau | Gusau | Zamfara |
| Federal Polytechnic Library, Kaura Namoda | Kaura Namoda | Zamfara |