The USPF Changemaker Challenge 2019 is a Hackathon event to encourage startups and investors to create applications and services to deepen ICT solutions in the country particularly in the unserved and under-served areas.
The competition held in the Southern (Lagos) and Northern (Kano) zones of Nigeria and was facilitated by Surez Global Resources Ltd as well as Everly United Associates Limited respectively. It brought together software developers, data scientist, student and other ICT experts to create fully working prototypes of their ICT solutions capable of deepening ICT penetration in the country.
This 4th edition of the nationwide competition with the theme "A Break from the Norm – Advancing Humanity through Technology" had 5 Tech Solution Categorization namely; Artificial Intelligence, FinTech, Disaster & Emergency Management, Digital Transformation & Automation and Business Intelligence & Analytics.
The pitch presentations were judged based on the following criteria; Idea/Innovation, Presentation, Technology Stack, Market Viability, Scalability, Quality of the Team and Alignment with the USPF initiatives.
Prize money was won by the 10 teams that participated in the competition in the zones as follows; N1, 000, 000 (1st Prize), N750, 000 (2nd Prize), N500, 000 (3rd Prize) and a consolation prize of N150, 000 for the remaining teams. In addition, the top 3 winners will go for incubation and entrepreneurship training as well as have access to investors.
In his opening remarks, the Secretary of the Universal Service Provision Secretariat, Mr. Ayuba Shuaibu who was represented by the Head, Strategy & Corporate Performance Monitoring, Dr. Olubunmi Bamijoko stated that the objective of USPF Changemaker challenge is to provide a platform for ICT start-ups to create fully working prototypes of ICT solutions capable of deepening ICT penetration in Nigeria while creating employment for the young ICT entrepreneurs. He expressed appreciation to the judges, mentors and participants at the event and emphasized that the prize money and consolation prizes are not only what would be won, but the incubation of the great ideas after the hackathon.
Team Food Prime won the 1st prize at the Lagos event and their ICT solution entails an electronic smart device solution that increases farmer's yield by reducing losses and damages caused by pest using sensors, perimeter detectors, counter-sound etc. While, the Kano event 1st Prize went to Team BC Scan for pitching a breast cancer detection device using a chip in brassieres.
All the teams were adjudged winners for their innovative ICT solutions and advised to remain focused and pursue their ideas. More information on www.uspfchangemaker2019.ng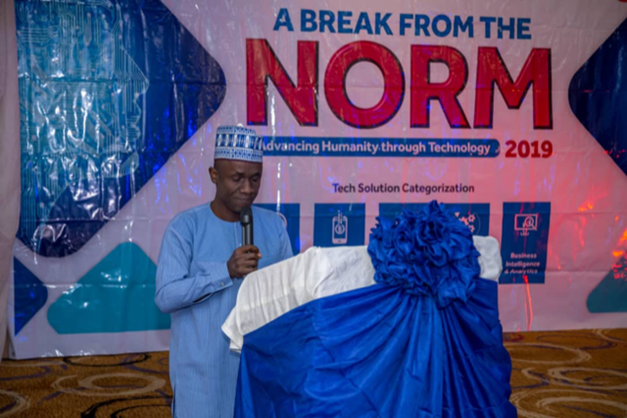 Head, Strategy & Corporate Performance Monitoring, Dr. Olubunmi Bamijoko delivering the opening remarks for the Secretary USPF, Mr. Ayuba Shuaibu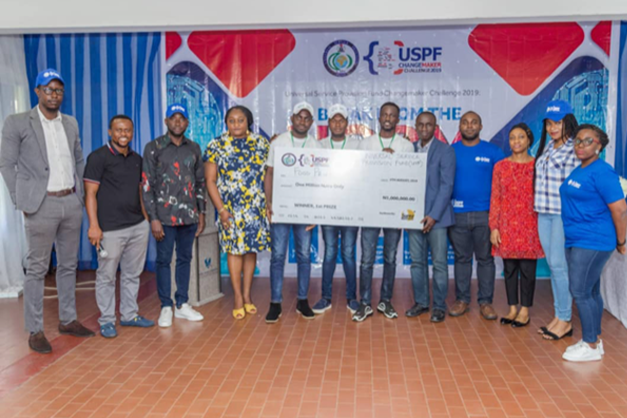 Team Food Prime (middle), winners of the Lagos USPF Changemaker Challenge 2019 with staff of USPF, Judges and the Hackaton facilitator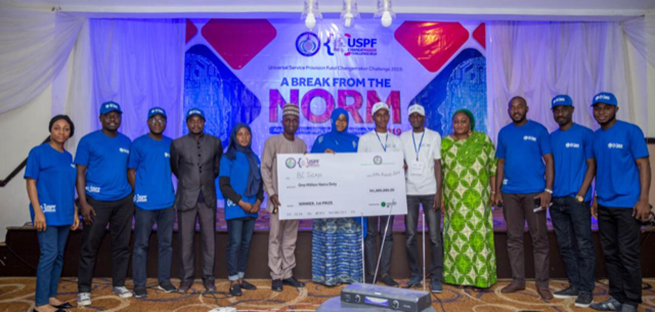 Team BC Scan (middle), winners of the Kano USPF Changemaker Challenge 2019 with staff of USPF and the Judges